Editor's note: This popular story from the Daily Briefing's archives was republished on Oct. 22, 2021.
While white coats are viewed as a "defining symbol" of a doctor's profession, research shows the coats are often contaminated with bacteria that could threaten patients' health, Austin Frakt, a health economist, writes for the New York Times' "The Upshot."
Infographic: 4 keys to engage physicians in care variation reduction
A 'powerful symbol' or a 'threat to your health'?
Research shows what a provider wears matters to patients, and often patients prefer to be treated by someone wearing a traditional white coat.
The white coat is the preferred choice for some doctors, too, writes Frakt, a health economist who holds positions at the Department of Veterans Affairs, Boston University's School of Public Health, and the Harvard T.H. Chan School of Public Health.  
But what some patients don't know is that white lab coats are not always washed daily, Frakt writes.
"Several studies of American physicians found that a majority go more than a week before washing white coats," Frakt writes. One study found that 17% of physicians go more than one month between washes. 
As a result, the white doctor's coats, "can harbor dangerous bacteria and pathogens," according to Frakt.
One systematic review found that the white coats can harbor "strains of harmful and sometimes drug-resistant bacteria associated with hospital-acquired infections," Frakt writes. According to the study, up to 42% of white coats tested positive for Gram-negative rods and up to 16% tested positive for MRSA.
"Both types of bacteria can cause serious problems, including skin and bloodstream infections, sepsis and pneumonia," according to Frakt.
What to wear?
So if long-sleeved coats are a concern, what can doctors wear instead?
One randomized study found that antimicrobial textiles can reduce the presence of certain types of bacteria, Frakt writes. Washing health care workers' attire daily can also "help somewhat, though studies show that bacteria can contaminate them within hours," he adds.
A different randomized study performed on physicians found that wearing short sleeves led to lower rates of pathogen transmission.
"It may be easier to keep hands and wrists clean when they're not in contact with sleeves, which themselves can easily brush against other contaminated objects," Frakt writes, which is why the Society for Healthcare Epidemiology of America tells clinicians to remain "bare below the elbows."
Another potential solution is the use of hand sanitizer, which is "often more effective and convenient than soap and water," Frakt writes. Plus, "it's far easier to keep hands clean than clothing," he adds. 
Why doctors won't 'hang up their lab coats'
Frakt notes that his piece isn't the first time someone has written in the Times about the problems of long-sleeved white lab coats.
A decade ago, the American Medical Association in the Times said it was considering a proposal "that doctors hang up their lab coats—for good," Frakt writes. But a doctor, in a comment on the article, wrote "the coat is part of what defines me, and I couldn't function without it."  
Sentiments like the doctor's might be why the change "hasn't taken hold," according to Frakt. 
"But maybe tradition doesn't have to be abandoned, just modified," he writes. "Combining bare-below-the-elbows white attire, more frequently washed, and with more conveniently placed hand sanitizers — including wearable sanitizer dispensers—could help reduce the spread of harmful bacteria."
However, until these ideas are realized, Frakt writes that one thing patients can do is "ask our doctors about hand sanitizing before they make physical contact with us (including handshakes). A little reminder could go a long way" (Frakt, "The Upshot," New York Times, 4/29).
Learn more: 4 keys to engage physicians in care variation reduction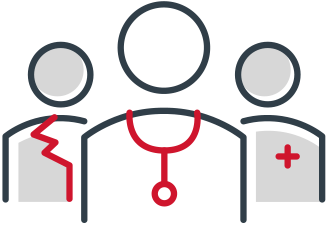 To shift physicians' stance from reluctant participants to the driving force behind care variation reduction efforts, leaders should focus on four key motivators that drive physician behavior: their hearts, minds, watches, and wallets.