In recent years, Baylor Scott & White (BSW) and Ascension have rolled out their own standardized strategies to treat sepsis, and their programs are helping reduce mortality, Harris Meyer reports for Modern Healthcare.
Infographic: 4 keys to engage physicians in care variation reduction
A pervasive challenge for hospitals everywhere
Each year, more than 1.7 million adults in the United States suffer from sepsis—a dangerous a medical complication resulting from the body's inflammatory response to an infection. The condition plays a role in more than 250,000 U.S. deaths annually.
Sepsis is difficult to diagnose, meaning clinicians often don't detect it until it's too late.
At Ascension, leaders learned that almost 10% of patients who were diagnosed with sepsis at its hospitals died and the condition was responsible for a disproportionate number of mortalities.
Ascension's strategy
With these data points in mind, Ascension developed a four-part strategy to standardize clinical processes and outcomes for sepsis at each of its 151 hospitals in fiscal year 2019. They built this strategy based on lessons learned from other successful campaigns to lower central line infections and unnecessary antibiotic use, Modern Healthcare reports.
Mohamad Fakih, senior medical director at Ascension, said the health system's first step was to get the staff at each hospital on board with the effort. To demonstrate the importance of improving sepsis treatment for patients, they launched a multimedia communications campaign that highlights the story of a patient who died from sepsis.
To help promote the message, the health system established an improvement team at each hospital and designated a "physician champion" for the effort in each of Ascension's 12 markets.
Next, the health system sought to standardize physician diagnosis and treatment of sepsis by creating a standard order set for the condition in the system's EHR.
In addition, Ascension created an outcomes dashboard, which staff can use to track how they are performing.
After implementing the standardized sepsis treatment strategy, Ascension saw inpatient mortality fall by 6.5%, or 177 lives, between July 2018 and March 2019, Meyer reports. The strategy also helped the health system save $9.3 million between July 2018 and March 2019, and $120 million so far in 2019.
Baylor Scott & Whites strategy
To reduce sepsis rates at BSW, hospital leaders took a another approach, focusing on improving efficiency in ICUs at 20 of its hospitals.
BSW's system acute care council met twice a month to discuss ways to improve continuity of care, communication, and safe handoffs in an effort to reduce length of stays at ICUs, and thus reduce the risk of sepsis.
According to Edgar Jimenez, system VP for critical care at BSW, the council also established evidence-based care bundles for sepsis patients that encouraged starting patients on antibiotics in a timely manner. The system made those new care bundles mandatory for all physicians by adding them into contracts with physician groups. BSW CEO Jim Hinton said, "We are insisting that whether you are employed or independent, you will engage in efforts to apply evidence to the patients you serve to produce beneficial outcomes."
Since BSW launched the program four years ago, ICU length of stay has dropped by 20% and the mortality rate has decreased by 30%. According to Jimenez, average stays dropped by two days at some ICUs (Meyer, Modern Healthcare, 5/16).
Learn more: 4 keys to engage physicians in care variation reduction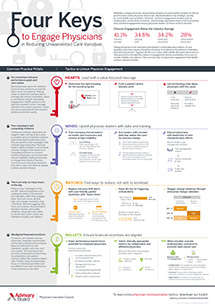 To shift physicians' stance from reluctant participants to the driving force behind care variation reduction efforts, leaders should focus on four key motivators that drive physician behavior: their hearts, minds, watches, and wallets.