FDA last weel announced that it will require some prescription sleep aids to carry black-box warnings that display the drugs' risks, following reports that some patients who have taken the medications have experienced side effects that led to injury or death, CNN reports.
Ready-to-present slides on the latest market trends in sleep services
The black box warning is the strongest warning that FDA can issue.
The warning applies to sleep-aide drugs that contain eszopiclone, zaleplon, or zolpidem, which are the active ingredients in Lunesta, Sonata, and Ambien, respectively. Other name-brand sleep aids are affected by the warning as well.
The agency did not specify when the warnings will take effect, according to the Wall Street Journal.
Background
Currently, about one in eight people who report sleeping difficulties use sleeping aids, the New York Times reports.
Janet Woodcock, director of FDA's Center for Drug Evaluation and Research, said FDA in the past has warned patients of potential adverse effects stemming from sleeping pills. The agency in 2007 issued a warning after it received reports that patients were experiencing next-day fogginess and cognitive impairment after taking Ambien and other sleeping pills. 
In 2013, FDA required drugmakers that make sleeping pills with zolpidem to lower the recommended dose, after researchers found that patients experienced elevated blood levels the morning after taking zolpidem, with some patients reporting impaired cognitive skills that affected their ability to drive.
FDA reviews sleep aids
The latest warning is based on an FDA safety review of 66 cases reported to the FDA Adverse Event Reporting System or noted in medical literature between 1992 and 2018. The cases involved patients exhibiting unconscious behavior after taking the drugs accidental overdoses, car accidents, suicide attempts, near drownings, falls, and other incidents, according to FDA. In 20 of the 66 cases, unconscious behavior led to death, the agency said. In most cases, the patients had no recollection of their unconscious behavior, making the overall risk unknown, FDA said.
Acting FDA Commissioner Ned Sharpless in a statement said the incidents occurred "after the first dose of these sleep medicines or after a longer period of treatment, and can occur in patients without any history of these behaviors and even at the lowest recommended doses."
FDA orders black-box warnings for sleeping aids
The black-box warnings will display the drugs' risks and potential side effects and list the drugs' contraindications. Specifically, the warning will advise patients not to take sleep aids if they previously have experienced complications from taking them.
Sharpless said, "While these incidents are rare, they are serious and it's important that patients and health care professionals are aware of the risk."
In addition to Ambien, Lunesta, and Sonata, other sleep aids affected by the warning include Ambien CR, Edluar, Intermezzo, and Zolpimist.
Next steps
While FDA did not specify when the black-box warning requirement will take effect, Woodcock said the agency will "continue to monitor and evaluate these risks associated with insomnia medications and communicate with the public or consider further actions, as appropriate."
Pfizer, Sandoz, and Sunovion, which manufacture affected sleep aids, did not respond to CNN's request for comment (Armental, Wall Street Journal, 4/30; Carey, New York Times, 4/30; Scutti, CNN, 4/30; Miller, USA Today, 5/2; FDA release, 4/30).
Ready-to-present slides on the latest market trends in sleep services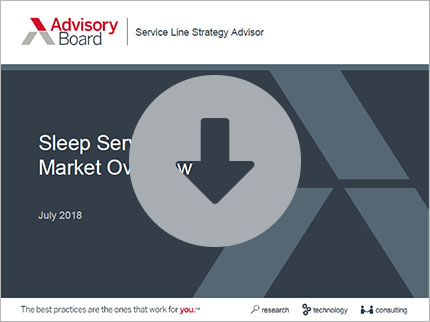 Want the latest information for your next sleep services strategy meeting? We've developed a ready-to-use presentation with the latest sleep market trends. It covers everything from an overview of sleep disorders to sleep volume and financial trends to strategies for responding.
Use the slides to frame your next strategy meeting and build a strong foundation for your presentation.