Read Advisory Board's take: What does this mean for providers?
Nonprofit and public hospitals last year showed signs of stable profitability—with revenue growth outpacing expense growth for the first time since fiscal year (FY) 2015, according to a preliminary analysis released Thursday by Moody's Investors Service.
The preliminary analysis is based on financial statements for FY 2018 from 150 nonprofit and public hospitals and health systems with credit ratings from Moody's.
Key findings
According to the analysis, a number of metrics indicate nonprofit and public hospitals experienced stable profitability in FY 2018. For example, researchers found the annual revenue growth rate for nonprofit and public hospitals exceeded the annual expense growth rate by a margin of 0.1%.
The researchers specifically noted nonprofit and public hospitals' annual revenue growth rate increased for the first time since FY 2015, rising to 5.1% in FY 2018, while their annual expense growth rate decreased from 5.7% in FY 2017 to 5% in FY 2018. The researchers attributed the revenue growth increase to investments in new facilities, mergers and acquisitions, outpatient buildout, and service line development. Meanwhile, "[e]xpense management, including a laser focus on productivity, the shift to lower-cost settings and supply management, contributed to a second year of declining expense growth," the researchers said.
The analysis also found that hospitals' profitability margins experienced slower declines in FY 2018 when compared with FYs 2016 and 2017. In particular, the researchers found the median growth rate in operating cash flow margin increased from -8.8% in FY 2016 and -10.5% in FY 2017 to -2.0% in FY 2018, which the researchers said suggests margin stability. The researchers also noted that median operating income increased from $11.9 million in FY 2017 to $13.7 million in FY 2018, and median operating cash flow increased from $74.4 million in FY 2017 to $63.9 million in FY 2018.
Margins still suppressed
However, the researchers said hospitals' financial margins in FY 2018 remained suppressed when compared with FY 2015. The researchers noted that the median growth rate of unrestricted cash and investments decreased from 8.2% in FY 2017 to 6.2% in FY 2018. The researchers also found median days of cash on hand declined from 213.7 days in FY 2017 to 209.7 days in FY 2018, while median cash flow debt increased from 169.2% in FY 2017 to 172.6% in FY 2018.
The researchers attributed the margin suppression to the high cost of specialty drugs, flat growth in service volumes, nursing shortages, and wage increases. The researchers said median growth in inpatient admissions remained flat at 1.2% in FY 2018, and total admissions, which include both inpatient admissions and observation stays, decreased year over year from 1.8% in FY 2017 to 0.7% in FY 2018.
In contrast, the researchers found the median growth rate for outpatient surgeries increased from 1.4% in FY 2017 to 1.7% in FY 2018, and the median growth rate for outpatient visits increased from 2.3% in FY 2017 to 2.4% in FY 2016.
Overall, the researchers said, "Revenue growth … remains below historical levels in the absence of significant growth in patient numbers, low reimbursement increases, and a changing payer mix as an aging population drives Medicare enrollment higher" (Gooch, Becker's Hospital CFO Report, 4/25; Moody's Investor Service report, accessed 4/29).
Advisory Board's take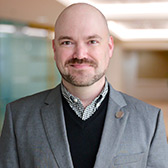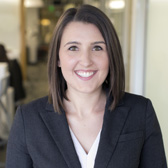 Christopher Kerns, Executive Director and Emily Connelly, Senior Consultant, Health Care Advisory Board
After two austere years, providers have finally turned the corner of keeping expense growth lower than revenue growth. But we shouldn't celebrate too soon—despite being able to close the revenue-expense gap in 2018, margins are still rigid. At 1.7%, median operating margin is well below sustainability levels (which are typically north of 2.5%), and still constraining capital spending on property, plant, and equipment (the average age of plant is closing in on 12 years).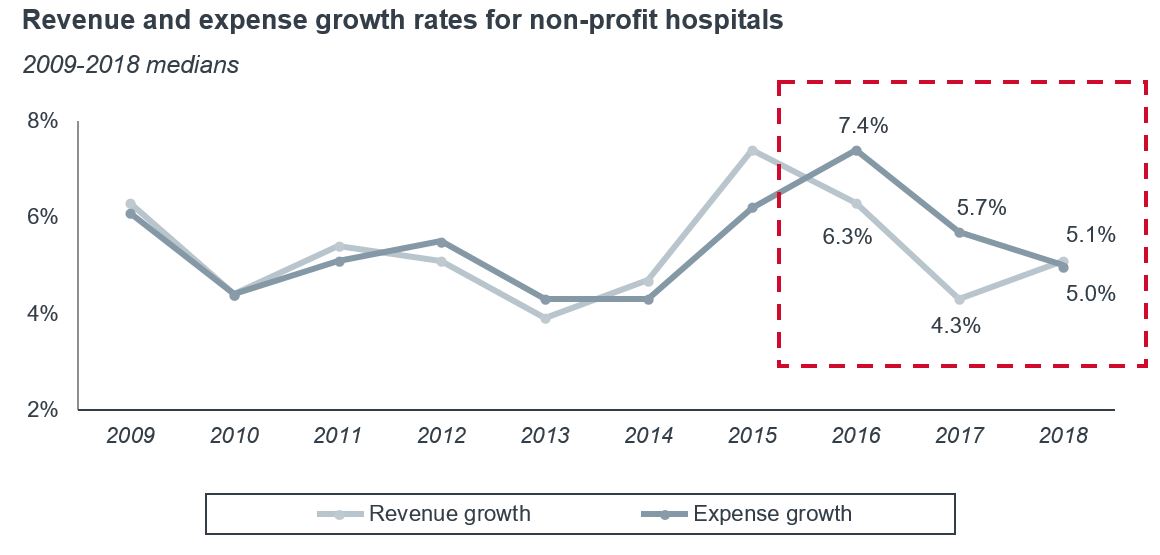 Source: Moody's Investors Service, 'Preliminary Medians – Profitability Holds Steady as Revenues and Expenses Converge,' April 25, 2019; Moody's Investors Service, 'Revenue Growth and Cash Flow Margins Hit All-Time Lows in 2013 US Not-for-Profit Hospital Medians,' August 2014
Not-for-profit hospitals saw large gaps between revenue growth and expense growth rates in 2016 and 2017, significantly depressing margins. Preliminary medians nonetheless show improvement on this front as providers were able to close the gap in 2018, through a relentless focus on cost control.
"Increasing revenue growth remains the key challenge"
Hospitals and health systems have a long road ahead of them to recover from the margin depression of the past few years and get their margins back to healthy levels. It is clear that providers can slow expense growth when forced to do so (2018 expense growth was 5.0%, down from 7.4% in 2016). But increasing revenue growth remains the key challenge. And this will only continue to get harder as commercial revenue declines; Medicare now accounts for 47.5% of gross revenues, while commercial revenue declined in share to 31.1%.
Building back operating margins to 2015 levels (3.4%) will require a long-term, comprehensive strategy that centers on creating a cost-disciplined enterprise while also maintaining healthy growth. Advisory Board modeling shows that neither of these approaches alone will be sufficient. Long-term cost containment requires embedding discipline throughout the organization by driving enterprise-wide efficiency, investing in technology and resources that aid performance improvement, and generating economies of scale.
Tackling providers' anemic revenue growth is a quite different challenge, because it is mostly the result of factors outside their control. Reigniting growth will require a renewed focus on revenue capture, patient acquisition and retention, and diversified revenue streams (all in an environment in which multiple would-be disruptors are looking to siphon off specific populations of patients). To learn what the C-suite can do to overcome these barriers to revenue growth, make sure to register for our upcoming 2019 CEO Special Sessions.
In the meantime, be sure to download our new three-part report on How to Reignite the Growth Engine. In it, you'll find ten strategies for meeting the new revenue mandate and case studies from best-in-class organizations who are meeting the margin challenge head on.
May 7 webconference: How health systems can re-ignite growth
As health system financial performance continues to decline, revenue growth has never been more critical to success and more challenging to achieve.
This webinar is the second of a two-part series covering strategies for re-igniting the health system growth engine and moving toward financial sustainability.