Editor's note: This popular story from the Daily Briefing's archives was republished on Aug. 19, 2022.
In health care, "imitation" has taken a backseat to "innovation," and as a result, providers and insurers are missing out on best practices that could save patient lives and money, Dhruv Khullar, an internal medicine physician at Weill Cornell Medicine, writes in a STAT News opinion piece.
Infographic: Learn 8 crucial steps to any successful change initiative
The innovation renovation
The health care industry has got caught up in the "innovation trend," Khullar writes. "Silicon Valley startups are disrupting health care. Academic medical centers are transforming it. Insurers are revolutionizing medicine and there are any number of conferences devoted to health care innovation."
But Khullar writes innovation today is "a universally revered if empty catch-all term that describes anything new or different, whether it's of value or not." And in health care, where the most important question should be will this innovation "help people live longer, healthier lives," Khullar writes, often the value of new startups is unproven.
He cites a research analysis published earlier this year that "found that the majority of highly valued health care startups have few or no peer-reviewed publications supporting their products, and that hardly any have published high-impact papers with human subjects."
What's more, Khullar writes, these innovations often do not solve the U.S. health systems inability "to safely and consistently provide some of the most basic elements of care," or address the "massive discrepancies in quality, cost, and outcomes across the country."
How imitation could improve care
But many of these shortcomings, Khullar argues could be addressed "by adopting widely recognized best practices and committing to a handful of mundane, lifesaving processes." In short, Khullar asked, "[D]oes health care need more imitation and less innovation?"
For example, Khullar cites Donald Berwick, a former CMS administrator who recently wrote about two practices a hospital used to reduce pressure ulcers by 80%. Pressure ulcers, Khullar writes, affect 2.5 million people each year and cost the health care industry $12 billion annually. But the hospital was able to reduce their occurrence by examining patients for signs of debility and turning them every two hours.
"Neither one of these [interventions] is patent protected," Khullar writes, and are ripe for other hospitals to imitate.
The same imitation could be applied to other proven best practices, such as safe birth practices, surgical checklists, and "timely removal of central venous catheters," Khullar writes.
He cites Anna Roth and Thomas Lee who suggested in Harvard Business Review it may be better for hospitals to hire so-called "chief imitation officers," who look through the current literature for effective practices to bring to their hospital, rather than chief innovation officers.
While it's nice as a patient to have a single-occupancy room with remote sensors detecting your vitals and an Alexa to contact your nurse, Khullar writes, "it's even nicer to know you won't get a bloodstream infection from the catheter in your neck."
Striking the right balance
"The truth, of course, is that it's not an either-or choice," Khullar writes. "We need both imitation and innovation. Sometimes, it's good to look around and adopt things. Sometimes, it's fine to move fast and break things. Unless they're people" (Khullar, STAT News, 4/12).
Best practice performance improvement—the Advisory Board way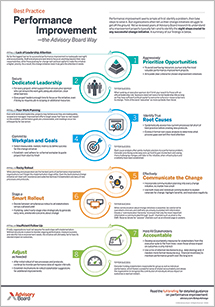 Download our infographic to learn the eight steps crucial to implementing a successful change initiative.