Each month, tens of millions of women use menstruation- or pregnancy-tracking apps to log private details about their cycle, sexual activity, and family planning—and in some cases that data may end up in the hands of employers and insurers.
Your telehealth primer on pregnancy care
Pregnancy and menstruation-tracking apps are gaining steam
Women increasingly are ditching pen and paper in favor of free phone apps such as Flo, Glow, Ovia, and Clue to track their menstrual cycles. Some women use the apps to better understand their bodies, while others use them as a tool to conceive or avoid pregnancy.
The apps allow women to record sensitive information about their sleep, mood, weight, and diet to track their general health. Women who are pregnant can also use apps such as Ovia to track the size of their unborn babies. The app further allows women to record any complications during pregnancy, including miscarriages, or during labor, such as an unplanned C-section or hemorrhaging.
But for some Ovia users, there's a catch: If a person is using the app as part of an employer-wellness program, the app may share aggregated data with their employer and insurer.
Why Ovia is marketing to employers
Ovia recently began marketing a paid version of its app to employers as a way to improve employees' health, reduce medical costs, and help women who've recently given birth return to work. Ovia's marketing states that women who track their pregnancies are less likely to have a C-section or a premature birth, which can be costly for employee and employer alike.
Companies pay the app's developer, Ovia Health, on a per-employee basis for a special version of the app that shares "de-identified," aggregated health data with the employer's human resources personnel. Those data typically include employees' average age, the average time it took them to get pregnant, current trimester, number of children, and timeline for returning to work.
In addition, the employer can access the percentage of employees who had high-risk pregnancies, experienced infertility issues before conceiving, had C-sections, or gave birth prematurely.
The app, which is HIPAA-compliant, requires companies to have a minimum number of enrollees before they can access the aggregated data. Companies typically offer an incentive to get workers to download and use the app, and they say the data can reduce costs and improve benefits.
For example, the video game company Activision Blizzard offers employees $1 per day in gift cards to track their pregnancies through the app. "I want them to have a healthy baby because it's great for our business experience," ­­­ Milt Ezzard, vice president of global benefits for Activision Blizzard, said. "Rather than having a baby who's in the neonatal ICU, where she's not able to focus much on work."
Many employees say they appreciate the service. Diana Diller, who works Activision Blizzard, used Ovia every night when she was pregnant last spring, and she also logged details of the birth, including her baby's name, birth location, sex, and whether she experienced any complications, the Post reports.
Diller said the gift card money was helpful "diaper and formula money." She said, "Maybe I'm naive, but I thought of it as positive reinforcement: They're trying to help me take care of myself."
Privacy concerns
But some privacy experts are concerned that even though the data are supposedly de-identified, it may be easy for companies, particularly those where few women are pregnant at the same time, to identify individual women.
Deborah Peel, a psychiatrist and founder of the Texas nonprofit Patient Privacy Rights, said she found the practice "very disturbing," She added, "There's so much discrimination against mothers and families in the workplace, and they can't trust their employer to have their best interests at heart."
Ovia says that its contracts explicitly prohibit employers from trying to re-identify employees. The company also said that unlike other menstrual- or pregnancy-tracking apps, it does not sell data to third parties. Ovia's data are only accessible to the employer, their insurer, and—if the company is self-insured—a third-party administrator that process women's medical claims.
However, women who use the app must first agree to the 6,000-word "terms of use," which give Ovia Health permission to sell the data to third parties, as well as a "royalty-free, perpetual, and irrevocable license, throughout the universe" to "utilize and exploit" the user's de-identified data for scientific research and "external and internal marketing purposes."
Potential payoff for employers
At Activision Blizzard, Ezzard said there's usually about 50 "active users" tracking their pregnancies. The average employee opens the app about 48 times a month and records more than 128 health data points per month, Ezzard said.
Ezzard said that the company has put in place strict controls on who can review the aggregated data to protect employee privacy, and that the company itself has saved about $1,200 per employee in annual medical costs (Kresge, et al., Bloomberg, 1/24; Harwell, Washington Post, 4/10).
Your telehealth primer on pregnancy care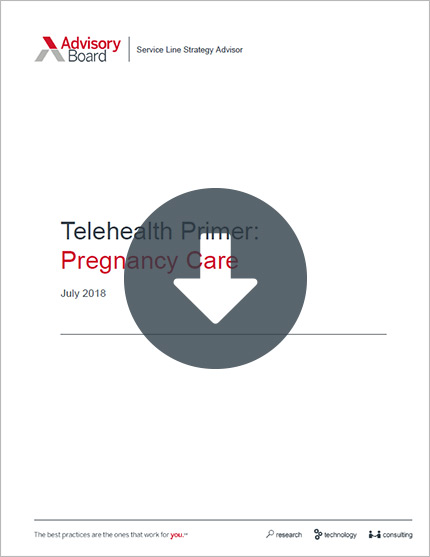 Read the primer to learn more about how pregnancy care providers are implementing these tools in their practice, as well as the trends that are driving adoption of these services and the business case for offering them.