Editor's note: This popular story from the Daily Briefing's archives was republished on March 30, 2021.
Shekinah Elmore was born with Li-Fraumeni syndrome, a rare genetic condition that's led to multiple forms of cancer. She's also a radiation oncologist—and she's using her personal experience to bridge the gulf of understanding between doctors and their patients, Orly Farber writes for STAT News.
What they value: Get to know the 5 types of cancer patients
Overcoming cancer to treat cancer
Li-Fraumeni syndrome is rare condition caused by a mutation in the p53 gene, which typically serves as a regulator that prevents the body's cells from growing too rapidly, Farber writes.
The mutation places patients at a very high risk of cancer, but each patient's experience is fraught with uncertainty. Anthony D'Amico, a radiation oncologist at Harvard Medical School and mentor of Elmore's, said patients with Li-Fraumeni can "have another cancer tomorrow" or "cannot have another cancer for a decade."
Elmore suffered from this disease all her life without knowing it, Farber writes. At age seven, she underwent surgery to repair a hole in her heart. Later as a child and then again as a teenager, she developed rhabdomyosarcoma, a cancer that affects soft tissue, such as muscle.
At age 28, as she entered her first year at Harvard Medical School, she was diagnosed with simultaneous breast and lung cancers—and finally was able to point to a reason for her extraordinarily bad medical luck. During a lecture break, her doctor called and delivered the results of her genetic tests: "You have p53. I'm so sorry."
Revealing the gap between doctors and patients
Faber dove into medical school while still recovering from treatments "that left her bald and unable to walk without getting winded"—and her experience as both a patient and doctor-in-training has revealed a gulf of understanding that often exists between doctors and their patients. 
"It starts so early that you talk about patients as this other thing," Elmore said. "Why does there have to be this stark separation? Why do I have to be either healthy, well, young or I have to be sick, patient, disabled? Why can't I just be a person who is a lot of different things?"
For example, Camila Cribb Fabersunne, a classmate of Elmore's who identifies as a person with disabilities because of her medical history, said that during lectures on abnormal physiology the lecturer often uses the students to describe what is considered "normal." She explained that a lecturer might say, "This is how it works in your kidneys."
"There's this assumption ubiquitously throughout medicine that we are the healthy, able-bodied individuals and we don't have medical concerns," said Fabersunne whose medical history includes childhood heart defects, a bone tumor as a teenager, and diagnoses of both celiac and Crohn's disease as a young adult. "But that was not my reality," she added.
Elmore's experience also showed her how a provider's comments can be inadvertently harmful to patients. For example, when she emailed the other residents, who at the time did not know Elmore's diagnosis, that she could give a presentation on Li-Fraumeni in the upcoming meeting, she received some discouraging comments. "People were just being doctors, which is a little obtuse, but generally not mean-spirited," Elmore said. But one resident's replied stunned Elmore. The resident wrote that they'd spent enough time discussing "rare and unimportant" diseases.
How Elmore is working to close the gap
Now, Elmore is focused on helping doctors to see their patients less as collections of symptoms and more as whole people. "Our patients are people first," she said.
And she's being upfront about her own experience. In school, Elmore was told never to disclose her personal health information to her patients, but ultimately, she's found her experience makes her a better doctor.
Elmore said that working with cancer patients in particular "felt right" and has given her "a sense of how I could make the care better" for them.
Fabersunne, who decided to train as a pediatrician, similarly said, "I have a well of empathy that others don't have."
According to Elmore, she'd especially like to help other physicians improve their patient communication. "It does bother me a lot more than the average doctor when there's a physician who is painfully bad at delivering information, and I can see it hurting patients," she said.
And after everything she's been through, Elmore believes she's in the exact right place. "I help people in a way that I wouldn't be able to do if I hadn't had all my experiences," she said.
She added that, as a doctor, "you are so lucky to be invited to help people in a really tangible, personal way. You have knowledge that is helpful. You have human skills that are helpful. It's so cool" (Farber, STAT News, 8/31/2018).
What they value: Get to know the 5 types of cancer patients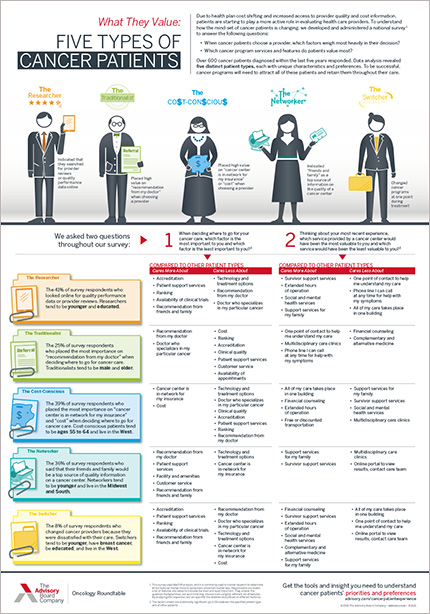 Cancer patients have more choices for their care than ever before. To attract patients in this fiercely competitive landscape, you must invest your limited resources in the right services—ones that will earn patients' trust and improve their experience.
Our infographic is your guide to understanding the five types of patients and what they value in a cancer provider.