Editor's note: This popular story from the Daily Briefing's archives was republished on Apr. 8, 2022.
By Ben Palmer, staff writer
If you're anything like me, baseball is more than just a passion. I grew up in a baseball family and spent my childhood going to more baseball games than I could count, learning about the players, memorizing their stats, and enviously watching them as they took the field on Opening Day.
Substance use disorder: How to keep your patients and colleagues safe
But for the average person, it turns out your batting average might not be the only thing standing in the way of achieving your childhood dreams of playing professional baseball. Major League Baseball bans players from taking more than 140 substances under its performance-enhancing drugs rules—and many of those substances can be found in everyday products and medications.  
About MLB's PEDs rules
MLB established the Joint Drug Prevention and Treatment program, which specifies the substances that players are planned from taking, in spring of 2006. According to MLB's written policy, the Joint Drug Prevention and Treatment program was established to end the use of PEDs; educate players on the risks of using those substances; and provide "an orderly, systematic, and cooperative resolution of any disputes that may arise concerning the existence, interpretation, or application" of the program.
While many of the substances on MLB's list are illegal drugs or substances that are no longer used for clinical purposes in the United States, a number of them are not only legal but surprisingly common.
10 (relatively) common substances banned by MLB
Here are 10 fairly commonly used substances that are illegal for players in MLB to take.
Amphetamines: Amphetamines are prescription stimulants that are used in many FDA-approved drugs, including Adderall and Ritalin, to treat attention deficit hyperactivity disorder (ADHD). For example, Adderall helps treat ADHD by increasing the activity of norepinephrine and dopamine in the brain. FDA warns, however, that amphetamine products have a "high potential for abuse" and prolonged use could put an individual at risk of dependence. Notably, in 2014, Baltimore Orioles hitter Chris Davis was suspended for 25 games for testing positive for amphetamines associated with Adderall. Davis, who has ADHD, had previously received a therapeutic-use exemption from MLB that allowed him to use Addderall, but he did not get the exemption renewed. He has currently switched to a new ADHD medication, Vyvanse, that does not use amphetamines.


Ephedrine: This is a nervous system stimulant that is sold under the brand names Akovaz and Corphedra to treat low blood pressure. Ephedrine is also used to treat asthma and narcolepsy. The drug can also be used to treat obesity, as it can promote modest short-term weight loss. Because of this effect, it is commonly taken by bodybuilders looking to reduce body fat, however FDA has banned ephedrine alkaloids from dietary supplements for more than a decade.


Clostebol: This is an anabolic steroid used in dietary supplements. A number of professional athletes have tested positive for clostebol, including Freddy Galvis with the Philadelphia Phillies in 2012, Dee Gordon with the Miami Marlins in 2016, and Olympic athlete Viktoria Orsi Toth in 2016. But most have argued they unknowingly ingested the substance.


Testosterone: This is a male hormone used to treat hypogonadism in men as well as certain types of breast cancer and depression among middle-aged men with low testosterone. In the 2000s, testosterone was heavily marketed in the United States to men to treat "andropause," a condition supposed to be a parallel to menopause in women; however, this condition has been rejected by the medical community.


Antiestrogens: These are a class of drugs that block estrogen production and are used in estrogen deprivation therapy, a treatment for ER-positive breast cancer. Antiestrogens also are commonly used to reduce breast development in men, as well as to treat male hypogonadism and infertility. They are also used as a component of hormone replacement therapy among transgender men.


Propylhexedrine: This is a secondary amino compound that is often used in nasal decongestion inhalers. It is sold over the counter in Benzedrex inhalers and has been used in Europe as an appetite suppressant under the name Obesin.


Modafinil: This is a stimulant used to treat sleepiness related to narcolepsy, obstructive sleep apnea, and shift work sleep disorder. It has also been used off-label as a cognitive enhancer. It is sold under the brand name Provigil, among others.


Armodafinil: This is a stimulant approved by FDA to treat narcolepsy and shift work sleep disorder. Armodafinil, which is commonly sold under the brand name Nuvigil, is also approved to use as an adjuvant therapy for obstructive sleep apnea.


Danazol: This is a synthetic steroid sold under the brand name Danocrine that is primarily used to treat endometriosis. However, danazol also has been used off-label for managing diseases such as fibrocystic breast disease, menorrhagia, and premenstrual syndrome.


Fluoxymesterone: This is an androgen and anabolic steroid used to treat low testosterone levels in men as well as delayed puberty in boys, breast cancer in women, and anemia. Fluoxymesterone is sold under the brand names Halotestin and Ultandren, among others.
Substance use disorder: How to keep your patients and colleagues safe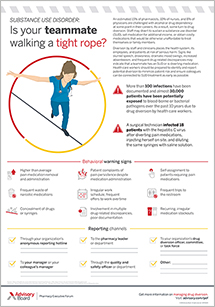 Get an overview of behavioral warning signs of drug diversion and the recommended reporting channels to keep patients and colleagues safe.