For decades, nearly 100% of breast cancer patients have been treated with surgery, but now clinicians are charting new territory and investigating ways to "de-escalate" breast cancer treatment, Lucette Lagnado reports for the Wall Street Journal.
Access the breast cancer dashboard to view tumor site-level data
Doctors look to 'de-escalate' treatment
Mastectomies—removal of the breast and sometimes underlying muscle—and lumpectomies—removal of the tumor and surrounding tissue—are used to treat nearly 100% of breast cancer cases. According to the National Cancer Institute (NCI), 65.5% of U.S. breast cancer patients age 20 and older in 2015 underwent breast-conserving surgeries and 34.4% underwent mastectomies.
But doctors are seeing that in some cases, chemotherapy alone appears to destroy patients' tumors entirely. In these cases, doctors check surrounding tissue for cancer after chemotherapy, and if the cancer is gone, the patients are declared cancer-free. These patients are spared the risks of undergoing general anesthesia and the pain and scarring that can accompany surgery, Lagnado reports.
The effort comes as part of a movement in medicine called "de-escalation," Lagnado reports. As part of the effort, doctors are finding ways to "do less in medicine" by treating breast cancer—and other diseases—without surgery, Lagnado writes.
Trials underway
The University of Texas MD Anderson Cancer Center is one of several sites studying non-surgical treatment for breast cancer.
Henry Kuerer, the surgeon leading the trial, aims to enroll 50 participants. About 20 participants will undergo surgery and about 30 will receive non-surgical treatment, according to Kuerer. Only patients whose cancer responds entirely to drug treatment are eligible for the non-surgical option. Those participants will be monitored after the trial with annual mammograms and biannual imaging tests for five years, Lagnado writes.
NCI is sponsoring a similar non-surgical trial in numerous facilities in the United States and Canada with 175 patients who were diagnosed with breast cancer that requires chemotherapy. Through the trial, the institute aims to determine whether a needle biopsy can conclude that a patient is cancer free and no longer needs surgery, according to NCI. 
Surgeons excited at the prospect of new treatment option
Sheldon Feldman, chief of breast surgery at Montefiore Health System, who is involved in the NCI trial said that now that drug treatments have become more advanced, "medical therapy works better [and] the role of surgery is less and less."
Kuerer hopes the trials will prove that going surgery-free is an option for some women with breast cancer. "I would be ecstatic if all of us [surgeons] would be put out of business," he said.
Others are wary
But some doctors are wary about whether "eliminating surgery is safe," according to Eric Winer, chief of the breast cancer program at Dana-Farber Cancer Institute. According to Winer, there is always a chance that the cancer has caused "submicroscopic changes we can't detect," which could put women "at high risk of a breast-cancer recurrence." Additionally, while the no-surgery trials allow women to avoid anesthesia and post-surgery recovery, the patients are subjected to more frequent screenings.  "I think there are women who would prefer not to have such intensive screening" he said.
Separately, Emilia Diego, a surgeon at UPMC Magee-Womens Hospital, said the no-surgery approach is not always "an easy sell" for patients who would prefer an operation.
Sabrina Jones, a patient who joined the MD Anderson trial in August 2018 after being declared cancer-free, said she "had to wrap [her] brain around the fact the cancer was gone and there was nothing left," adding that the trial was "scary because it was not the traditional protocol."
According to Larry Norton, SVP at memorial Sloan Kettering Cancer Center, more research is needed to test the no-surgery approach but noted that the "de-escalation" movement could be a milestone in breast-cancer treatment.  "That we are learning to accomplish the same with less is a very exciting point in the field," he said (Lagnado, Wall Street Journal, 3/11).
Next, see the latest clinical innovations in oncology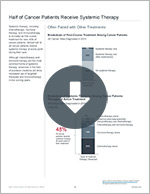 Find our take on the latest innovations in oncology and practices for maximizing a return on investment in our four research briefings.