In response to climbing generic drug prices, a group of hospitals last year launched a nonprofit generic drug venture, called Civica Rx, to "ensure that essential generic medications are accessible and affordable," Marc Harrison, president and CEO of Intermountain Healthcare, writes in a STAT News opinion piece. Harrison, whose health system is a founding member of Civica Rx, outlines how the venture will deliver on that mission.
Download our executive briefings on key pharmacy topics
Old drugs, high prices
In recent years, several for-profit drug companies have hiked the prices of essential generic drugs, Harrison explains. He cites high-profile examples like Turing Pharmaceuticals' 5,000% increase on pyrimethamine, a generic used to treat a rare infection called toxoplasmosis, and Nostrum Laboratories' 500% increase on the bladder infection treatment nitrofurantoin.
Pharmaceutical CEOs have defended the increases, and Nostrum's CEO last year said there was a "'moral requirement … to sell [nitrofurantoin] at the highest price." But Harrison and other industry stakeholders and experts have questioned the rationale behind some of these decisions.  
Enter: Civica Rx
In response to developments like this, three philanthropies and a group of health care organizations that represent about 800 U.S. hospitals and formed Civica Rx, Harrison explains. The venture is a hospital-led nonprofit that will supply generic drugs to member hospitals. The venture aims to "shake up the marketplace and benefit the American people," Harrison writes.
Civica will do that by operating with "a different moral requirement than that of Nostrum and many other generic drug companies," Harrison writes. That requirement, according to Harrison, is "to put patients and their needs first."
Civica will do that by "creating its own market" through "the clout of its large volume commitments," Harrison writes. According to Harrison, more than 120 health care organizations, representing about one-third of the hospitals in the country, committed to the venture or expressed interest in participating in it when it launched last September. In addition, the venture is collaborating with the Department of Veterans Affairs, "which could bring its considerable buying power to the table," Harrison writes.
"The participating institutions know how much of each medication they need, and have records that reveal it with great precision," Harrison writes. "They also know what constitutes a reasonable cost," he adds. In turn, "they can make commitments in advance to purchase specific amounts of medications from Civica Rx at predetermined prices long into the future," Harrison writes.
Harrison states, "Not a penny of profit will be paid out."
The 5-year plan
According to Harrison, Civica Rx within three to five years expects to offer "up to 100 generic medicines" to its member hospitals.
The organization will offer "several levels of membership that will allow access for all hospitals, regardless of size," Harrison writes. This model "will ensure that Civica Rx's long-term volume commitments will let it lock in prices that are both reasonable and transparent." According to Harrison, each hospital will pay the same price per unit, and "no hospital will be able to scoop up the supply."
Harrison concludes, "With many health systems working together, we have the capacity to inject competition into the generic drug marketplace, an injection that is long overdue" (Harrison, STAT News, 3/14).
What executives need to know about pharmacy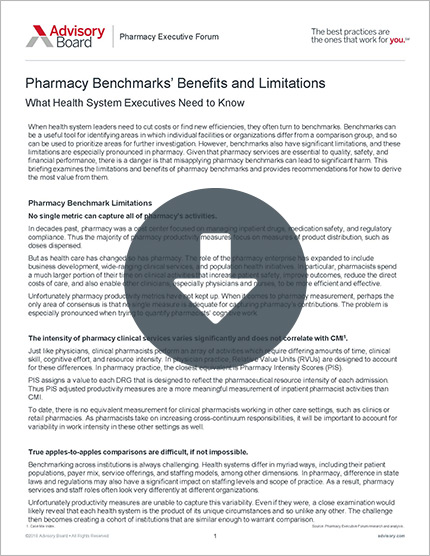 While historically pharmacy may have been viewed as a cost center, today pharmacy services generate a significant portion of system revenues and are essential to the achievement of strategic system-level priorities.
To better understand increasingly complex pharmacy issues and the critical role pharmacy plays in overall health system success, download our executive briefings on hot pharmacy topics.