FDA Commissioner Scott Gottlieb on Tuesday warned consumers and health care providers against the unapproved and unproven use of blood plasma infusions from young donors to treat conditions such as Alzheimer's disease, dementia, heart disease, and post-traumatic stress disorder.
Five strategies to build a financially successful memory disorders program
Background
Plasma blood infusions are approved by FDA to treat patients for a number of medical conditions. For example, providers use plasma infusions to treat low levels of blood proteins in patients with liver disease who cannot make the proteins needed for blood to clot.
However, some clinics recently have started offering plasma infusions as an off-label treatment for age-related conditions. The treatments can cost thousands of dollars, and the clinics do not need to show that the treatments carry a significant benefit because the basic technique of transfusing blood already is approved by FDA.
One such clinic is Ambrosia Medical, which as of October 2018 had given transfusions to treat age-related conditions to almost 150 patients, including 81 who participated in a clinical trial. For the trial, participants ages 35 to 92 were given 1.5 liters of plasma from donors between the ages of 16 and 25. The participants had a handful of biomarkers measured before and after the transfusion to determine any effects of the procedure.
While the clinical trial's results have not been published, Jesse Karmazin, a graduate of Stanford Medical who founded Ambrosia Medical, said "many" of the individuals who have received the treatment have seen a number of benefits, including better focus, memory, and sleep, as well as improved appearance and muscle tone.
FDA says there's no evidence that plasma infusions can treat age-related conditions
However, Gottlieb and Peter Marks, director of FDA's Center for Biologics Evaluation and Research, in a joint statement released Tuesday said the agency is "concerned … some patients are being preyed upon by unscrupulous actors touting treatments of plasma from young donors as cures and remedies." They said, "There is no proven clinical benefit of infusion of plasma from young donors to cure, mitigate, treat, or prevent these conditions, and there are risks associated with the use of any plasma product."
Specifically, Gottlieb and Marks said the infusions clinics are using to treat age-related conditions "can involve [the] administration of large volumes of plasma that can be associated with significant risks including infectious [and] allergic, respiratory, and cardiovascular risks, among others." Because of the risks associated with plasma transfusions, Gottlieb and Marks said providers should use plasma infusions only when the benefits of the procedure are likely to outweigh the potential risks, or when patients are enrolled in clinical trials examining whether infusions are effective and safe for treating a specific condition.
Gottlieb and Marks in the statement did not specify which companies are offering plasma blood infusions for unapproved uses, but warned that FDA could consider taking enforcement actions against the companies—including sending warning letters that request corrective actions.
Gottlieb and Marks also advised consumers and providers to report "any adverse reactions resulting from the administration of plasma" (McGinley, Washington Post, 2/19; LaVito, CNBC, 2/19; Lieber, "The Goods," Vox, 2/19; FDA statement, 2/19).
Five strategies to build a financially successful memory disorders program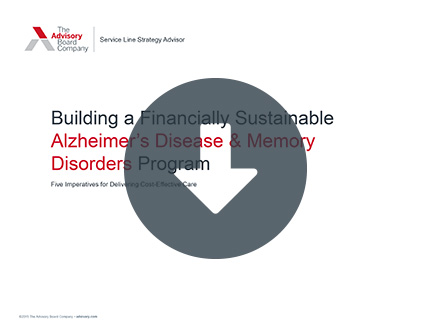 Over 5.3 million Americans currently suffer from Alzheimer's disease and related memory disorders and the number is rising. On top of increased demand, reimbursement processes fail to meet the complex needs of these patients who require multifaceted care.
Here are the five key strategies that a program of any scope and size can implement to provide cost-efficient Alzheimer's and dementia care.