Read Advisory Board's take: Why the market for sleep services is changing
It's not just you: Most Americans struggle to fit in a full night's sleep. Here's what polling and research reveal about how America's terrible sleep habits—and about the potentially dire consequences for our health.
Once upon a time, Americans slept almost 8 hours per night. (Not anymore.)

CDC recommends that people get at least seven hours of sleep each night—and according to a Gallup poll, in the past, Americans actually used to get that much sleep. In fact, in 1942, Americans averaged 7.9 hours of sleep each night.

But since then, the share of Americans who get the recommended amount of sleep has plummeted, according to the Gallup poll, which found that Americans are averaging just 6.8 hours of sleep each night. Further, the number of Americans getting six hours or less of sleep each night increased from just 11% in 1942 to 40% in 2013.

 

Most of us admit we aren't getting the sleep we need.

The same Gallup poll found that the percentage of Americans who say they get as much sleep as they need has decreased from 67% in 1991 to 56% in 2013.

Unsurprisingly, the sleep shortfall is taking a toll on people's self-reported well-being. The percentage of Americans saying they'd feel better with more sleep increased from 32% in 1991 to 43% in 2013.

 

Working-age Americans are the least likely to get enough sleep.

CDC data break down the ages at which Americans are more likely—and less likely—to get enough sleep. Americans ages 18 to 24 and those ages 65 and older are most likely to get seven or more hours of sleep per night, while those in their prime working and child-rearing years find it hardest to fit in a full night's sleep.

 

The Great Plains are great for sleep. (The Appalachian Mountains, not so much.)

The CDC data also showed where people are most likely to get enough sleep. People in the Great Plains were least likely to have short sleep durations, while those in the Appalachian Mountains and in the Southeast were most likely to have short sleep durations.

 

A big reason why Americans don't sleep? We don't consider it a priority.

While there are many causes of Americans' sleepless nights, research from the National Sleep Foundation suggests that a big one is simply that Americans don't consider sleep a priority. When asked which of five items were most important to them personally, just 10% of respondents said sleep—far less than cited fitness/nutrition, work, and hobbies.

 
Is America's sleep shortfall a public health crisis?
Research has linked numerous health risks with not getting enough sleep. For instance, adults who average fewer than seven hours of sleep a day are more likely to report 10 chronic health conditions—including heart attacks, stroke, and diabetes—than those who sleep seven or more hours a day, according to CDC.
It's been shown that preschoolers who skip naps during the day were worse at a memory game than those who took naps. Poor sleep has also been associated with an increased risk of Alzheimer's disease and increased feelings of social isolation and loneliness, as well as an increased risk of developing pain in older people.
A lack of sleep is also a risk factor and symptom of depression, something that providers often overlook, according to Ken Paller, a cognitive neuroscientist at Northwestern University. "A lot of medical approaches have ignored sleep," he said. "People think about [poor sleep] as one of the complaints someone with depression or other disorders might have, rather than a critical part of the whole etiology of the disease, which is a new idea."
All of this has led to experts trying to spread the message that America's lack of sleep is a public health crisis as important as the obesity epidemic. Daniel Buysse, a professor of sleep medicine at the University of Pittsburgh, said, "It used to be popular for people to say, 'I'll sleep when I'm dead.' The ironic thing is, not sleeping enough may get you there sooner" (Johnson, Washington Post, 1/24; Gallup poll, 12/19/13; CDC report, accessed 1/24).
Advisory Board's take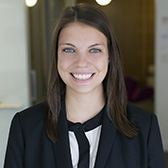 Sarah Musco, Senior Consultant, Service Line Strategy Advisor
As this story shows, lack of sleep or poor sleep can critically impact the health of patients and, therefore, affect key care metrics for providers, such as readmission rates, medication adherence, and long-term outcomes.
"For the 50-70 million Americans with a sleep disorder, a more intensive approach may be necessary"
While providers can help many patients improve their sleep by advising them about proper "sleep hygiene" and supporting lifestyle changes, for the 50-70 million Americans with a sleep disorder, a more intensive approach may be necessary. Many of these patients, for instance those with obstructive sleep apnea (OSA), may require sleep testing to help diagnose their underlying condition and improve their sleep.
Yet the market for sleep testing has been changing substantially in the past few years—largely making it less financially attractive for providers. The main three trends contributing to this shift are:
The growth of home sleep testing, due to payer pressure to accept this testing over in-lab polysomnography (PSG);
Volumes shifting to freestanding labs, due to patients who prefer the experience and price of these freestanding sites over large health system campuses; and
Waning profits at sleep centers, due to regulatory pressures that have increased administrative costs and reduced reimbursement.
To address these market forces and adapt to slimming margins, sleep programs must secure high volumes to stay financially viable. This volume growth may be difficult, but comes down to two main avenues:
Securing greater physician referrals through conducting more face-to-face meeting with referring specialists, and educating PCPs about the dangers of undiagnosed sleep disorders and the need for sleep testing; and
Attracting more patients through building a robust online presence highlighting the sleep program's quality and accessibility; and developing online and easy-to-use scheduling systems to execute on patient demands for convenience.
Programs can also consider incorporating new service offerings (like EEG testing for epilepsy monitoring) that build on existing sleep lab infrastructure and can bring in new revenues. To learn more about the market for sleep services and other concrete tactics to grow volumes, make sure to download our Sleep Services Market Trends.
Ready-to-present slides on the latest market trends in sleep services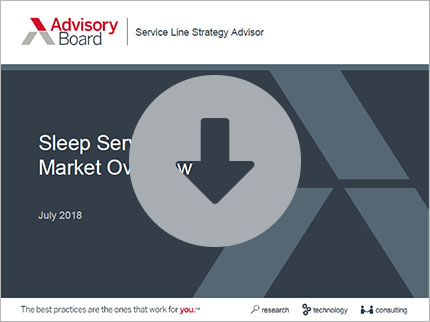 Want the latest information for your next sleep services strategy meeting? We've developed a ready-to-use presentation with the latest sleep market trends. It covers everything from an overview of sleep disorders to sleep volume and financial trends to strategies for responding.
Use the slides to frame your next strategy meeting and build a strong foundation for your presentation.