Most nurses are satisfied with their jobs, but some would have chosen a different path if they could do it over again, according to
Medscape
's Nurse Career Satisfaction
Report
2018.
About the survey
For the report, which Medscape released Wednesday, the publication surveyed 10,284 nurses, including:
5,011 RNs;
2,006 nurse practitioners (NPs);
2,002 licensed practical nurses (LPNs);
501 clinical nurse specialists (CNSs);
389 nurse midwives (NMs); and
375 certified nurse anesthetists (CRNAs).
Nurse's job satisfaction
Overall, the vast majority of nurses at every position were satisfied with their jobs. NMs, CNSs, and CRNAs all reported 98% job satisfaction, while NPs, LPNs, and RNs had satisfaction rates ranging from 94% to 96%.
However, when asked if they would choose the same career all over again, even though the vast majority of nurses are satisfied with their career, a smaller share of nurses said they would choose nursing as a career again. Between 12% and 24% said they would not choose nursing as a career again.
The survey also found that only 28% to 38% of nurses would choose the same practice setting if they were to do over their career.
Among nurses who were dissatisfied with their careers, many said they planned to pursue another path within nursing, including 25% of RNs and 31% of CNSs. Almost one-quarter of CRNAs said they would retire earlier than they planned, while 20% of RNs said the same. At 16%, LPNs were the most likely to say they would leave nursing as a whole and seek other employment.
Most (and least) rewarding aspects of the job
When asked what the most rewarding aspect of their job was, most nurses said helping people and making a difference in people's lives. However, for CRNAs, respondents were split between helping people and working to the full extent of their education, certification, and licensure.
When asked what the least satisfying aspect of their job was, most nurses said workplace politics, followed by their amount of paperwork.
Preparedness for retirement
When asked about retirement, the majority of each specialty of nurse, with the exception of RNs and LPNs, said they were financially prepared for retirement.
The survey also found that most nurses received little help or guidance as they neared retirement, with the majority of nurses reporting they did not receive reduced hours, less physically demanding work, or guidance on retirement planning.
"Employers looking to replace their older nurses with far cheaper new-graduate nurses have little incentive to help nurses stay on the job," the authors of the report wrote (Frellick, Medscape, 1/24; Stokowski et. al., Medscape Nurse Career Satisfaction Report 2018, 1/23).
How to attract millennial nurses—and keep them happy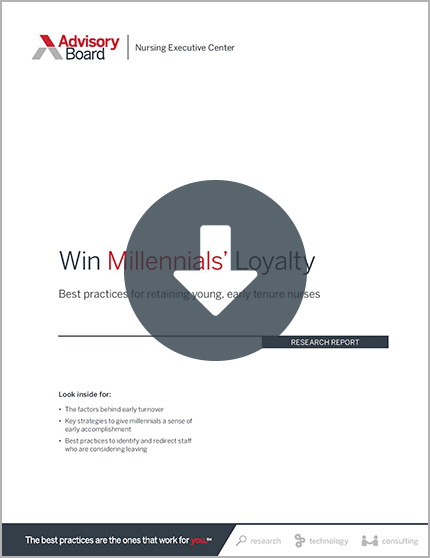 In 2016, millennials surpassed Baby Boomers as the largest living generation in the United States. As more millennials have entered the nursing workforce, health care leaders have confronted a growing challenge: young nurses are turning over at higher rates than their older peers, especially early in their careers.
Use the strategies and best practices in this study to build a millennial-specific retention strategy for your organization.