A group of 37 specialists from 16 countries have published in The Lancet what they consider to be the "ideal diet" for the health of both people and the planet—and it includes cutting meat and increasing whole grains consumption.
Help your employees promote healthy habits—regardless of the newest diet fads
The 'Planetary Health' diet
For the report, which was organized by EAT, a Swedish nonprofit focused on improving the food system, the researchers drew on a number of previously published studies, including ones that have linked red meat consumption to health problems.
In general, the so-called "Planetary Health diet" includes increasing consumption of whole grains, fruits, and the majority of vegetables, while decreasing consumption of meat, refined grains, and sugars. Specifically, the report stated global consumption of foods like red meat and sugar needs to be cut in half, while consumption of fruits, nuts, and vegetables should double.
Walter Willett, one of the report's authors and a nutrition researcher at Harvard University, said people don't necessarily have to cut meat out of their diets entirely to follow this diet. "Think of it like lobster—something that I really like, but have a few times a year," he said.
The researchers broke down the ideal caloric intake for the "Planetary Health" diet.
The researchers estimated the benefits of such a diet are twofold: If everyone followed the Planetary Health diet, more than 11 million premature deaths could be prevented annually, greenhouse gas emissions would drop, and more land, water, and biodiversity would be preserved.
But recruiting the entire world to follow the new diet would not be easy, the researchers acknowledged.
Tim Lang, a professor at the University of London in Britain who co-led the research, explained, "We need a significant overhaul, changing the global food system on a scale not seen before." And the researchers said the clock is ticking. In order to sustainably feed the growing world population, those changes would need to be in place by 2050.
Not everyone is convinced
However, some experts were skeptical of the potential impact of the diet. John Ioannidis, chair of disease prevention at Stanford University, said he welcomes the increased attention on how food production impacts the environment, but warned that nutritional science is full of uncertainties. "The evidence is not as strong as it seems to be," he said.
He added that nutritional science is often based on observational research and that some past associations between food and health have not been validated in later studies.
Andrew Mente, a nutrition epidemiology researcher at McMaster University, said he'd be cautious before making a widespread dietary recommendation, as it could have unintended consequences.
The meat and dairy industries responded to the report saying their products deliver nutrients that are important and can be a part of a healthy diet (Choi, AP/Sacramento Bee, 1/16; Kelland, Reuters, 1/16).
Help your employees promote healthy habits—regardless of the newest diet fads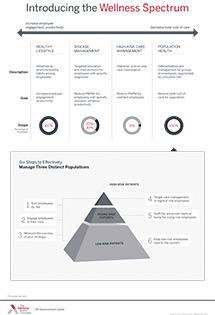 Programs aimed at promoting healthy habits among employees are likely to lead to improved employee engagement and productivity—but they're unlikely to reduce the total cost of care. To do that, you'll need to take a population health approach.