For decades, researchers have been working to train the immune system to accept new organs and wean transplant patients off of the harmful anti-rejection drugs they currently must take for life—and now they may be getting close, Gina Kolata reports for the New York Times.
Here are 5 key tactics to attract and retain transplant patients
Tricking the immune system
Currently, the only way doctors can get a body to accept a transplanted organ is by suppressing the recipient's immune system. This makes anti-rejection drugs essential for transplants, Kolata writes.
However, these drugs come with a host of risks, including accelerated heart disease, cancer, and kidney failure. On average, 25% of liver transplant patients die within five years of their surgery, and that number jumps to about 40% within 10 years.
Abhinav Humar, a transplant surgeon at the University of Pittsburgh Medical Center (UPMC), said, "Even though the liver may be working, patients may die of a heart attack or stroke or kidney failure. It may not be entirely due to the anti-rejection meds, but the anti-rejection meds contribute."
With these risks in mind, scientists have been working on a method that may help eliminate the need for anti-rejection drugs.
Some researchers—such as James Markmann, chief of the division of transplant surgery at Massachusetts General Hospital, and Eva Guinan, of the Dana-Farber Cancer Institute—have been focusing on cells called regulatory T lymphocytes in transplants, Kolata reports.
These rare white blood cells are how the body determines which cells are not foreign, Kolata explains. Without regulatory T lymphocytes, the body's immune system would attack its own tissues and organs, Kolata reports.
Markmann and Guinan are hoping to isolate regulatory T cells from a patient who is going to have a transplant, then grow them in a lab alongside cells from the organ donor. Then, the T cells will be transplanted back into the recipient, which would then hopefully tell the immune system not to reject the transplanted organ, Kolata writes.
Angus Thomson, director of transplant immunology at UPMC, said, "The new T cells signal the rest of the immune system to leave the organ alone."
But at UPMC, Thomson and other researchers are targeting a different immune cell, called regulatory dendritic cells, Kolata reports. These cells are similar to regulatory T cells in that they help the body identify which cells are foreign. However, regulatory dendritic cells don't have to be isolated to grow, Kolata reports. "It takes one week to generate dendritic cells," Thomson said. To grow enough T cells, it could take weeks, Kolata writes.
"Each of us is taking advantage of a different approach," Markmann said. "It is not clear yet which is best. But the field is at a fascinating point."
UPMC's first human test
UPMC, so far, has tested its approach on one patient, Michael Schaffer.
Schaffer in February 2017 presented at the ED for a nosebleed that would not stop, Kolata reports. It was there doctors informed him that he had a fatty liver disease called Nash—nonalcoholic steatohepatitis. The disease doesn't always have obvious symptoms, but it destroys the liver, and Schaffer's nosebleed was a sign that his body wasn't producing enough proteins for his blood to clot.
Doctors told Schaffer he would need a liver transplant, and asked whether he was interested in being the first patient in their experimental treatment to wean out anti-rejection drugs.
Schaffer agreed to give it a shot. "Someone has to be first," he said.
Schaffer found a family member who was a good match and willing to donate, and in September 2017, he received his new liver. Post-surgery, Schaffer had to take about 40 pills a day to prevent infections while his body accepted the new organ.
However, today, Schaffer is taking just one pill per day, and his doctors hope they can eventually take him off of that, Kolata reports.
For Schaffer, the experiment has been worthwhile, Kolata reports. He's active and is working with his grandson on a home improvement project.
The UPMC researchers are hoping to replicate the experiment on 12 more patients, and if the results are positive, expand to more patients at more test sites (Kolata, New York Times, 1/22).
Here are 5 key tactics to attract and retain transplant patients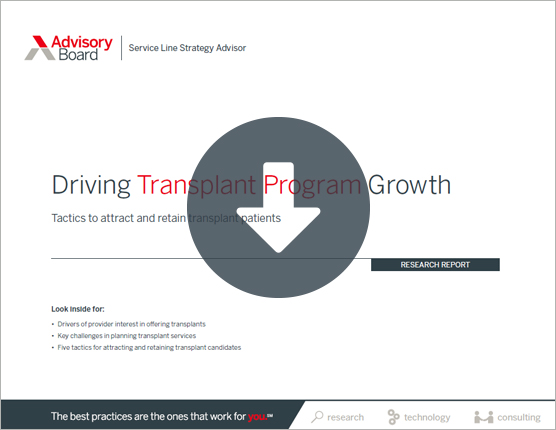 Download this briefing to learn how to expand the pipeline of potential transplant patients and engage them across the care pathway.