Editor's note: This popular story from the Daily Briefing's archives was republished on April 1, 2020.
Getting a good night's sleep can be difficult, but Douglas Kirsch, president of the American Academy of Sleep Medicine and medical director of sleep medicine at Atrium Health, has a few tips to help you set up a room to get the rest you need, Heidi Mitchell writes for the Wall Street Journal.
Get ready-to-use slides on the latest sleep services market trends
The ideal sleeping conditions
According to Kirsch, the ideal temperature for sleep is between 65 and 68 degrees Fahrenheit, and it's important that the room you're sleeping in is dark. "We wake up frequently for brief periods in the night, and if there is light, we are more likely to stay up than roll over and go back to sleep," he said.
From a purely evolutionary point of view, Kirsch explained, "it makes sense that humans would prefer a physical environment that is cool and dark, like a cave."
Many people like to sleep with a window open, a practice that's especially popular in Germany and Scandinavia, Mitchell writes. But Kirsch said there's limited evidence on whether the practice is beneficial for sleep.
One study tested 17 patients in the Netherlands across five nights and found that those who slept with a window open had better rest. The researchers claimed the better sleep stemmed from lower carbon dioxide. A different study tested the air quality in dorm rooms and its impact on sleep quality and found that people who slept either with a window open or with a fan on had better sleep. However, Kirsch said these studies only measured the participants' movements and their self-reported perception of their sleep quality and mental state.
While sleeping with an open window can be good for air circulation, Kirsch noted that the practice may not be ideal for everyone or at all times of the year. He explained that if it's the middle of winter or summer, an open window might "change your body temperature too much," and in an urban environment, "the loud noises may disrupt sleep."
Instead of opening a window, Kirsch recommended leaving a door open or using a fan. "There is zero scientific data that I know of, but the reason people may like fans or windows open could be the pleasant feeling of the movement of air, the cooling effect, or the white noise." He added, "At some basic level, there is a sense of peacefulness that comes from feeling integrated with nature, which can benefit sleep."
Kirsch cautioned that every person is different, and people who sleep together may need different conditions for sleep. "It often seems like opposites attract when it comes to people in a relationship," he said. "Temperature fights are not uncommon in my practice."
But whether you're a window open or closed individual, the most important element to a good night's sleep is consistency, according to Kirsch. "[T]ry to stick with the same sleep schedule every night of the week, no matter what," he said (Mitchell, Wall Street Journal, 11/27).
Get ready-to-use slides on the latest market trends in sleep services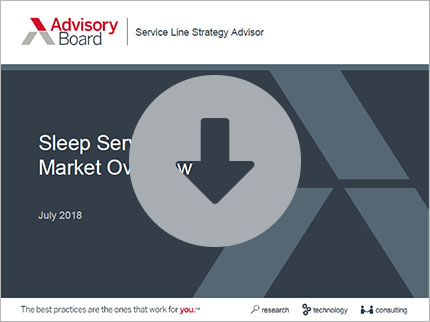 Want the latest information for your next sleep services strategy meeting? We've developed a ready-to-use presentation with the latest sleep market trends. It covers everything from an overview of sleep disorders to sleep volume and financial trends to strategies for responding.
Use the slides to frame your next strategy meeting and build a strong foundation for your presentation.