Amazon has teamed up with Omron Healthcare to integrate Omron's blood pressure monitor with the company's Alexa voice assistant, marking a first in blood pressure monitoring, CNBC reports.
Details on the partnership
Omron's blood pressure monitor is now able to connect to Alexa to help people manage their high blood pressure. Users can connect the monitor to Alexa via Omron's mobile app.
Once the device is connected, users can ask Alexa to read their latest blood pressure results, calculate average readings, and compare their blood pressure levels at different points throughout the day. Users can also ask Alexa to remind them to take their blood pressure.
Omron CEO Ranndy Kellogg said the team at Omron worked "extremely closely" with Amazon to put this together. "My team here who wrote the skill worked hand-in-hand with Amazon's Alexa and Echo teams to build the skill, test it, and even add new features as Amazon makes them available to health care companies," he said.
Amazon declined to comment, CNBC reports.
This isn't the first time Amazon has worked on health care uses for Alexa. In May, CNBC reported that Amazon had staffed an Alexa team with over a dozen people specifically focused on developing health care apps for the device, ranging from chronic disease management to maternity care. Last year, Amazon teamed up with the Mayo Clinic to enable Alexa to provider basic first aid advice (Farr, CNBC, 12/11; Cohen, Becker's Health IT & CIO Report, 12/12).
Hey, Alexa: How can I create a consumer-focused digital strategy?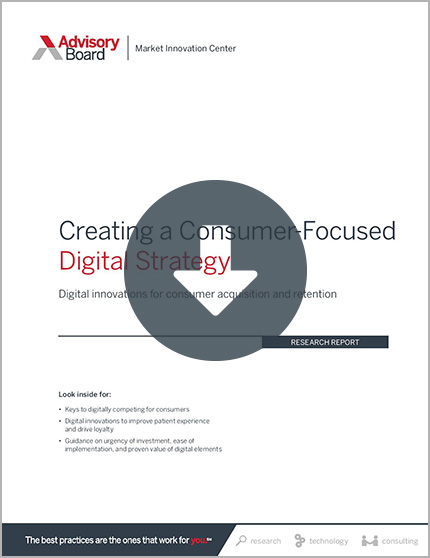 This research report explores how innovative provider organizations have created strong digital strategies by grounding their investment approach in two consumer-centric goals: attracting consumers and retaining them.