Editor's note: This popular story from the Daily Briefing's archives was republished on Jan. 8, 2020.
Up to 81% of patients lie to their doctors about how often they exercise, how much they eat, and other behaviors to avoid being judged, according to a study published last month in JAMA Network Open—and those lies can negatively affect patients' health.
5 myths physicians believe about patient experience
Study details
For the study, researchers from Middlesex Community College and University of Utah Health collaborated with researchers at the University of Michigan and the University of Iowa to discover how often patients are dishonest with their doctors.
The researchers analyzed responses from a national survey that was administered to two separate groups of participants. The first group included 2,011 participants with a median age of 36, and the second group included 2,499 participants with a median age of 61. Participants were asked if they "ever avoided telling a health care provider" the truth during seven "common" doctor-patient scenarios in which participants:
Did not adhere to prescription medication as instructed;
Did not exercise regularly or at all;
Did not understand a doctor's instructions;
Disagreed with a doctor's recommendations;
Maintained an unhealthy diet;
Took a particular medication; or
Took someone else's medication.
Participants were asked to explain why they were dishonest with doctors in those situations.
Majority of patients were dishonest with doctors, study finds
The study found that about 81% of participants in the survey group with a median age of 36 had been dishonest with their health care providers in at least one of the seven scenarios. That figure was lower among the older survey group, in which about 61% of participants said they had been dishonest with a heath care provider in at least one of the scenarios.
Participants in both groups were most likely to lie about their eating and exercise habits, according to the study. For example, the study found that one in four participants in the first survey group and one in five participants in the second survey group did not tell their doctors that they had an unhealthy diet. A similar share of respondents in each survey group reported that they had withheld information about their exercise habits, the study found.
In addition, the study found that almost 50% of the first survey group and 31% of the second survey group said they did not confront their doctors when they disagreed with a recommendation from the provider. Similarly, about 30% of participants in both groups said they did not tell their providers when they had trouble understanding the clinicians' instructions.
Patients' dishonesty can have negative health effects
Andrea Gurmankin Levy, an associate professor in social sciences at Middlesex Community College and one of the authors of the study, said patients' dishonesty could have negative health effects. "If patients are withholding information about what they're eating, or whether they are taking their medication, it can have significant implications for their health. Especially if they have a chronic illness," Gurmankin Levy said.
The researchers said patients' dishonesty could make it more difficult for providers to give accurate diagnoses and put patient at risk of being prescribed medications that might have adverse effects.
Further, the study found that patients with comparatively poorer health were more likely to be dishonest with their physicians. The researchers wrote, "[T]he very patients who are in greatest need of high-quality health care because of the complexity of their health may be more likely to compromise their care by withholding important information from their clinician."
So why do patients lie?
Study participants explained that they lied about their unhealthy habits to avoid judgment from doctors. According to the study, more than 50% of participants said they were too embarrassed about their habits or too embarrassed by their inability to understand instructions to be honest with their doctors.
"Most people want their doctor to think highly of them," said Angela Fagerlin, senior author of the study and chair of population health sciences at University of Utah Health. "They're worried about being pigeonholed as someone who doesn't make good decisions," she said.
The researchers noted that physicians also might drive dishonesty. "How providers are communicating in certain situations may cause patients to be hesitant to open up," Fagerlin explained, adding, "This raises the question, is there a way to train clinicians to help their patients feel more comfortable?"
The researchers said they plan to conduct further research to identify how factors such as doctor-patient interactions and the duration of the doctor-patient relationship might drive patients to be dishonest. Until then, they advised that patients and doctors be open and honest with each other in order to ensure patients receive the most appropriate care (Perry, MinnPost, 12/3; Caffrey, "In Focus Blog," AJMC, 12/3; Science Daily, 11/30; Gurmankin Levy et al., JAMA Open Network, 11/30).
What physicians overlook about the patient experience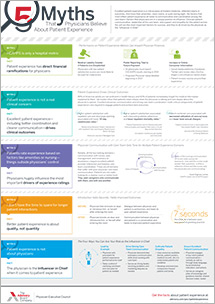 Excellent patient experience is a critical piece of modern medicine, reflected clearly in outcomes. And more than amenities, clean rooms, or quiet during night, the factors that most inflect patient experience all relate to communication and coordination among the care team—factors that physicians are in a unique position to influence.
Clinician-patient communication, leadership of the care team, and support and empathy for the patient across the unit are the most important factors for success, and they're all driven by the physician as the "Influencer in Chief."