While most cancer-related deaths are declining, deaths due to uterine cancer are increasing, and black women are "disproportionately" affected, according to a CDC report released Friday.
Report details
The report draws on data from CDC's National Program of Cancer Registries, the National Cancer Institute's Surveillance, Epidemiology and End Results program, and the National Vital Statistics System.
Researchers compared uterine cancer incidence and death rates in 1999 with those in 2015 and 2016.
Uterine cancer is the fourth most common cause of cancer and the seventh most common cause of cancer death among women in the United States, according to CDC.
Uterine cancer cases, death rate have risen
From 1999 to 2015, rates of uterine cancer increased by 12%. There were 24 cases per 100,000 women in 1999, compared with 27 cases per 100,000 women in 2015. Each year, the incidence of uterine cancer increased by 0.7% from 1999 to 2015. Overall, the researchers said there were nearly 54,000 cases of uterine cancer diagnosed in 2015.
As uterine cancer became more prevalent in the United States, death rates increased by 21% from 1999 to 2015, CDC data show. There were four deaths per 100,000 women in 1999, compared with five deaths per 100,000 women in 2016. Uterine cancer death rates increased 1.1% per year between 1999 and 2016.
Black women are more likely to die from uterine cancer than others
The researchers found that black women were twice as likely as other women to be diagnosed with uterine cancer that's difficult to treat. The prevalence of uterine cancer among black women increased by 46% from 1999 to 2015. In comparison, the prevalence among white women increased 9%.
Black women were "approximately twice as likely to die from uterine cancer," as women in other racial and ethnic groups, CDC found.
What might explain the data
CDC suggested rising obesity rates might explain the increased prevalence of uterine cancer. The risk of endometrial cancer—the most common form of uterine cancer—is two to four times higher when women are overweight or obese. The increase might also stem from insufficient physical activity, rising rates of diabetes, and reduced use of hormone therapies. 
Michael Birrer, an oncologist and director of the O'Neal Comprehensive Cancer Center at the University of Alabama at Birmingham, said the reason for the higher rates of uterine cancer and related death among black women "is not entirely understood." He added, "One reason could be genetics. Another is access to health care. Black patient populations that are poor or from rural communities may not have equal access to care. When the tumors are finally identified, the disease may have already spread."
To help reduce the incidence of uterine cancer, CDC called for public health efforts to help women maintain weight and complete enough exercise.
CDC also urged women to understand the early symptoms of uterine cancer. One symptom is abnormal vaginal bleeding, which affects roughly 90% of women who have uterine cancer, CDC noted. The agency urged women who experience this symptom to seek medical attention promptly.  
Birrer noted the importance of public health awareness, but added that "more research needs to be done to address all the genetic and environmental factors that contribute to the difference in prevalence between African-American women and other groups" (Henley et al., Morbidity and Mortality Weekly Report, 12/7; Miller, LiveScience, 12/6; Charles, NBC News, 12/6; Galvin, U.S. News & World Report, 12/6).
What they value: Get to know the 5 types of cancer patients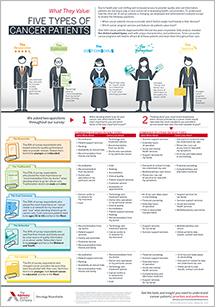 Cancer patients have more choices for their care than ever before. To attract patients in this fiercely competitive landscape, you must invest your limited resources in the right services—ones that will earn patients' trust and improve their experience.
Our infographic is your guide to understanding the five types of patients and what they value in a cancer provider.