A journalistic investigation by major news outlets revealed medical devices have been tied to roughly 83,000 deaths and more than 1.7 million injuries over the past decade—and now FDA says it will overhaul its system for approving most medical devices.
The 4 foundational cracks that are undermining your nurses' resilience
Investigation details
For the investigation, reporters from AP, NBC, the International Consortium of Investigative Journalists, and more than 50 other global media organizations sought to examine the global medical device industry. As part of that effort, reporters analyzed millions of medical records, recall notices, and product safety warnings. The reporters also reviewed CMS data on payments to physicians and hospitals from device manufacturers and interviewed physicians, patients, researchers, and whistleblowers.  
An increasingly popular device is also a leading source of injury reports
Reporters on Sunday revealed the investigation found one-quarter of the device-related injuries and deaths over the past decade resulted from six of the nearly 4,000 types of medical devices that FDA tracks.
Metal hip replacements are the leading source of injury, followed by insulin pumps with sensors, according to the investigation.
The journalists spotlighted the rise of spinal cord stimulators—calling them one of the "fastest-growing products" on the market—while also being the third-leading cause of injury. There were about 78,000 injury reports related to spinal cord stimulators between 2008 and 2017, according to the investigation. The spinal cord stimulators are used to treat pain and have been heralded as a means for fighting the opioid misuse epidemic.
Where FDA's processes fall short, according to journalists
Overall, the investigation suggested that FDA places patients at risk by using an abbreviated review process to clear devices for the U.S. market—which allows device manufacturers to bring devices with limited clinical testing to the market. For example, FDA cleared St. Jude's spinal-cord stimulators without requiring data from new clinical trials. Instead, the agency relied mostly on data from studies conducted on previously cleared spinal-cord stimulators.
According to the investigation, FDA also allows device manufacturers to use supplementary requests to change their devices without submitting new data for review. As a result, six of the new spinal-cord stimulator devices cleared since 1984 have received clearance for 835 supplemental changes.
In addition, the investigation determined FDA puts patients at risk by:
Failing to disclose the number of devices implanted in the United States annually—which could allow researchers to calculate the failure and success rates of medical devices;
Rarely pulling medical devices off of the U.S. market; and
Responding slowly to reports of adverse effects linked to medical devices.
The investigation also looked at industry payments to providers.
According to the investigation, the 10 largest medical device companies last year paid about $600 million to physicians or hospitals in fees related to consulting, entertainment, and research and travel.
The reporters found medical device companies have spent millions on lobbying as well. The top four manufacturers of spinal-cord stimulators since 2017 doled out more than $22 million to influence the passage of legislation that would benefit the medical device industry.
Comments
According to AP, FDA's process for clearing the vast majority of devices on the U.S. market has long been criticized by independent medical experts and government watchdogs alike. FDA has used that process since 1976.
Diana Zuckerman, president of the National Center for Health Research, said the investigation shows "kind of the story of FDA's regulation of devices, where they're just putting stuff on the market."
For its part, the device industry defended its compliance efforts. Janet Trunzo, senior VP of technology and regulatory affairs for AdvaMed, said medical device companies have "invested countless resources—both capital and human—in developing leading-edge compliance programs."
Separately, Walter Koroshetz, director at the neurological disorders and stroke division at NIH, discussed the potential role of the placebo effect in the rise of spinal cord stimulators. He said clinical trials evaluating medical devices, such as spinal-cord stimulators, are typically small, sponsored by the medical industry, and have a "substantial" placebo effect. He said, "I don't know of anyone who is happy with spinal-cord technology as it stands. I think everybody thinks it can be better."
FDA announces device approval overhaul plan
The day after the investigation was published, FDA announced plans to overhaul the 42-year-old 510(k) system, which is used for the bulk of devices FDA reviews.
FDA Commissioner Scott Gottlieb and Jeffrey Shuren, director of FDA's Center for Devices and Radiological Health, in a statement said, "In short, we believe that it's time to fundamentally modernize an approach first adopted in 1976, when Congress considered the vast diversity of devices that would become subject to the FDA's regulatory oversight and established many of the predicate devices that served as the basis for 510(k) clearances during the last 40 years."
Currently, most medical devices have to show that they are similar to devices that are already on the market to gain approval, meaning they are not subject to extensive clinical testing for safety and effectiveness, AP reports.
More than 80% of devices on the market gained entry based on a standard in which makers provide evidence that the new device has "substantial equivalence" to a device already on the market. The products to which new devices are compared are called "predicate devices."
As part of the overhaul, Gottlieb and Shuren said the agency plans to push companies "toward reliance on more modern predicate devices or objective performance criteria." Specifically, FDA wants companies that still plan to use predicate devices to use devices 10 years old or younger, rather than the 40-year precedents currently allowed.
According to FDA, data show about 20% of devices cleared through the 510(k) process gained clearance based on a predicate that's more than 10 years old. As such, Shuren and Gottlieb said that means "some devices may not be continually improving."
FDA plans to issue guidance to the industry by early next year that will allow certain devices that are well understood "to rely on objective safety and performance criteria" to gain U.S. market approval.
In terms of comparison products, Gottlieb said some "don't approximate what we would want to establish as modern standards." He added, "This represents a pretty aggressive vision to move the pool of predicates in the direction of new performance standards."
Reaction
In the past, the 510(k) process has received criticism from consumer groups and doctors focused on safety issues, while industry has largely supported it, according to the Wall Street Journal.
AdvaMed in a statement said some of FDA's proposals "could prove arbitrary." However, it added, "While we believe the 510(k) pathway has proven its effectiveness over the years, we have always maintained that any process can be improved."
Jeffrey Gibbs, a medical-device attorney at Hyman, Phelps & McNamara, called the move "a dramatic overhaul." However, he noted that some of the proposed changes are likely to require congressional action (AP/STAT News, 11/25; AP/STAT News, 11/26; Burton, Wall Street Journal, 11/26; FDA release, 11/26).
The 4 foundational cracks that are undermining your nurses' resilience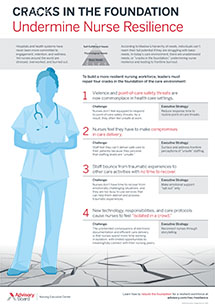 Check out our infographic to learn which four cracks in the care environment leaders must repair to rebuild the foundation for a resilient workforce.