Editor's note: This popular story from the Daily Briefing's archives was republished on March 15, 2019.
The traditional stroke patient is monitored in the ICU before moving to a lower-cost setting, but Mayo Clinic determined some of those patients could safely skip the ICU under a front end risk-stratified approach to stroke care, W. David Freeman, Mayo Clinic's medical director of the neurosciences intensive care unit, and his colleagues write for the Harvard Business Review.
Download ready-to-use slides on the latest neurosciences market trends
Mayo Clinic launches project to redesign stroke care
Before adopting the risk-stratified approach, the Mayo Clinic Comprehensive Stroke Center Practice launched a project focused on delivering high-quality customized care to patients—but at a lower cost.
The Mayo Stroke Practice team used time-driven activity-based costing (TDABC) to map from the bottom-up different care pathways for stroke patients. The map showed patients could come from the:
ED;
Clinic;
Hospital (non-ICU);
ICU; and
Radiology.
From there, patients would go to interventional radiology and then either an intensive care or regular floor unit. The team found a bed in a regular floor unit averages $500 less per day for insurers, patients, and hospitals than an ICU-level care bed averages per day.
They explained ICU stays under a fee-for-service reimbursement model can result in daily charges of up to $2,500 or about nearly 25% of Medicare's $11,000 total reimbursement for tissue plasminogen activator (TPA), a treatment FDA approved to treat stroke in 1995.  
They also found delays, and added expenses, in bed flow and overturn. Freeman and his colleagues compared bed logistics to a game of chess. They write, "Similar to the opening moves in a game of chess, which can determine the rest of the game, similar bed logistics can make or break hospital bed flow."
How the team decided to lower costs
To better allocate beds, the Mayo team used the TDABC mapping along with existing stroke data and the NIH stroke scale, which assesses a stroke patient's condition using a range from 0 for normal to 42 for severe, to determine whether a stroke patient needs ICU-level care can safely be admitted to a regular hospital unit.
Based on the data, the team determined patients with NIHSS scores of 14 or less could be treated in an non-ICU environment, while those "with an NIHSS score of 18 or higher should be monitored in the ICU for the first 24 hours after receiving TPA." Freeman and his colleagues explain that patients with NIHSS scores above 17 "often suffered medical complications that required advanced interventions such as intubation and mechanical ventilation. However, patients with few comorbidities and NIHSS scores of 14 or less had a reduced probability of severe complications that required critical interventions."
They wrote, "The team saw an opportunity to reduce costs based upon how and where patients received care, while still meeting Joint Commission requirements for post-TPA care, by treating low-risk patients in a NSPCU-level bed with a specialized hybrid level of nursing care ... for the first 12 hours."
Improving care value
"This risk-stratified care model," Freeman and his colleagues explain, "improved value by delivering equivalent care quality with a lower-cost mix of resources." On top of that, Freeman and his colleagues write, "the stratification process allowed for better 'demand elasticity' of ICU bed utilization."
Ultimately, the risk-stratified approach reduced the cost of care for stroke patients who were monitored outside of the ICU by an average of 25%, according to Freeman and his colleagues. They noted that 166 of the 448 stroke patients seen over the past three years were monitored outside of the ICU, resulting in a net cost reduction of about 10% without a negative effect on patient outcomes.
Freeman and his colleagues conclude, "[C]ustomization produces equivalent or better quality and outcomes at reduced costs because of more efficient resource utilization and diminished risk from medical errors."
They note that the gains seen in the Stroke Center Practice can be applied elsewhere in the hospital. "None of the gains discussed in this article are unique to stroke treatment, and the NSPCU model can be extended to many medicine and surgery areas to improve the value delivered at hospital, national, and international levels," the write (Freeman et al., Harvard Business Review, 10/19).
Get our ready-to-use slides on the latest neurosciences market trends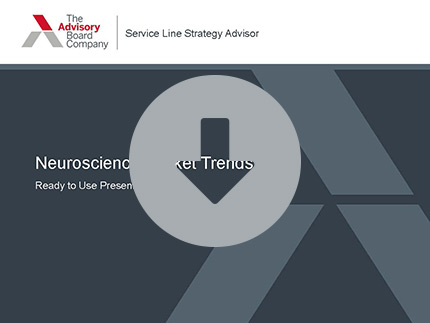 Download the slides to learn everything you'll need to know about the neuroscience market in 2018, from growth outlook and financial considerations to new care management priorities and technology innovations.