FDA on Wednesday for the first time in nearly 20 years approved a new antiviral influenza treatment, CNBC reports.
The announcement comes after CDC Director Robert Redfield last month said an estimated 80,000 U.S. residents died from the flu and related complications last winter.
Traveling this fall? How to avoid the flu when you fly.
About the new flu treatment
FDA approved Genentech's Xofluza, which is an antiviral treatment that is a member of a new class of drugs called endonuclease inhibitors that disrupt the viral replication process, preventing viruses from replicating and spreading infections. Xofluza differs from current flu treatments available in the U.S. market, including Tamiflu, which do not disrupt the viral replication process.
Xofluza is fast-acting, single-dose drug intended to treat patients ages 12 and older who have acute uncomplicated influenza and have demonstrated symptoms for no more than 48 hours. A single-dose of Xofluza requires one or two pills, depending on an individual's body weight.
According to FDA, research suggests Xofluza works as effectively as Tamiflu, which STAT News reports must be taken twice a day for up to five days. Researchers evaluated Xofluza's effectiveness in two randomized clinical trials, which enrolled a total of 1,832 patients and compared Xofluza to a placebo. One trial showed patients with the flu who took Xofluza within 24 hours of the onset of symptoms reported feeling better an average of 33 hours before patients with untreated flu symptoms. Researchers found patients with the flu who took Xofluza after 24 hours of the onset of symptoms reported feeling better an average of 13 hours before patients with untreated flu symptoms. According to FDA, the trials' results suggested Xofluza might provide an advantage to patients who have the influenza strains A and B, which occur annually.
FDA said it approved Xofluza under an expedited review process, and based its approval primarily on the clinical trials' results. The agency said common adverse reactions to the treatment include bronchitis and diarrhea.
FDA Commissioner Scott Gottlieb said, "With thousands of people getting the flu every year, and many people becoming seriously ill, having safe and effective treatment alternatives is critical. This novel drug provides an important, additional treatment option."
Xofluza to reach US market in coming weeks—but some experts say it might not be widely used
A Genentech spokesperson said Xofluza will be available in the U.S. market in the coming weeks.
Genentech said the wholesale price for a single dose of Xofluza—regardless of whether it involves one or two pills—will be $150, which the company said is comparable with price of other flu treatments.
Genentech said the company plans to offer eligible individuals coupons to purchase Xofluza at discounted prices during the upcoming flu season. According to STAT News, the coupon would allow a person whose health insurance covers Xofluza to pay as little as $30 for the treatment during its first year on the U.S. market. The coupon would discount the drug by $60 for uninsured individuals.
However, some experts said the drug might not be widely used by patients. For example, they note the short-treatment window could pose a barrier to access, as it will require patients to receive and fill a prescription for Xofluza within hours of feeling flu symptoms to get the treatment's maximum clinical benefits.
Experts also have noted the lack of uptake for other flu treatments, such as Tamiflu, and the potential for flu strains to become resistant to the drug.
Atsushi Seki—an analyst with UBS AG in Tokyo, where the drug already is available—said, "Xofluza is an excellent drug," but the drug's "commercial potential is moderate" because of multiple factors, including the severity of flu seasons and the possibility for flu strains becoming resistant to the treatment.
William Schaffner, professor of infectious diseases at Vanderbilt University School of Medicine and a member of CDC's immunization practices advisory panel, said, "A new antiviral against flu is of course welcome and is, at first blush, very attractive because it's one dose. However, there are a couple of cautions, namely resistance seems to develop fairly readily, and the drug seems not to be as effective against influenza B strains."
Others are eagerly awaiting the drug's arrival. Frederick Hayden, a professor of medicine and pathology at the University of Virginia School of Medicine, said, "I'm particularly excited about this agent because it's a novel mechanism in antiviral action. We haven't had any new influenza drugs in term of how they work in inhibiting the virus in about 20 years" (Jagadeesh Babu, Reuters, 10/24; McNeil, New York Times, 10/24; Branswell, STAT News, 10/24; Gever, MedPage Today, 10/24; LaVito, CNBC, 10/24; Bloomberg/Los Angeles Times, 10/24). 
How to avoid the flu when you fly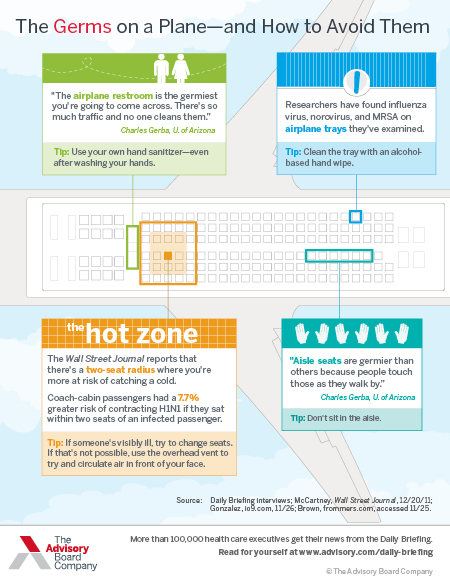 Download this infographic to learn about both the obvious and less obvious locations where germs on planes are rampant.