Orthopedic practices are expected to see a surge of investment from private equity over the next five years, according to a report by investment bank Edgemont Capital.
Private equity keeps buying up health care companies. Should patients worry?
Why the attraction?
While orthopedics has not yet seen the same degree of private equity involvement as other specialties—such as dermatology and ophthalmology—orthopedists are becoming more open to consolidation and private equity partners to better position their practices to compete in the market, according to Jeff Swearingen, co-founder of Edgemont and a managing director with the firm.
For example, the Edgemont report predicts a recent deal between Varsity Healthcare Partners and the Orthopedic Institute, an orthopedic services provider in Florida, will lead to further acquisitions that will help the Orthopedic Institute extend its reach beyond North Central Florida.
Nathan Every, general partner with private equity firm Frazier Healthcare Partners, said the trend toward private equity and orthopedic provider partnerships is being driven by an uptick in hip and knee replacements as well as shift toward outpatient delivery for orthopedic procedures.
What are the pros and cons for providers
According to Swearingen, some physicians are becoming more receptive to consolidation to fight pressures from managed care and gain leverage with payers.
Swearingen said private equity firms tend to be less interested in managing how doctors practice medicine but more interested in the practice's finances, namely when it comes to growing infrastructure and opening more practices. Swearingen also noted that for providers interested in holding an ownership stake in their practice, private equity deals can help provide needed capital.  
Jack Bert, chair of the American Academy of Orthopaedic Surgeons, also said the deals tend to be better for physicians than entering a deal with a health system, which is more likely to want a say in both the business and medical side of the practice, including where and how the physicians practice.
"If the hospital system buys you out, you lose total control of your practice," Bert said. "There's no question the hospital buyouts are worse."
That said, Bert cautioned that it's important for physicians to closely review the terms of the deal, for in some cases, they could have to hand over all control of their practice's business procedures.
Swearingen said orthopedic practices considering a deal with a private equity firm should expect change in one way or another. "The practice has to be open to and embrace that opportunity for growth," he said. "[I]f they're not interested in embracing that growth, then there will be some level of conflict with their new partner" (Bannow, Modern Healthcare, 10/8).
Ready-to-use slides on the latest orthopedic market trends for 2018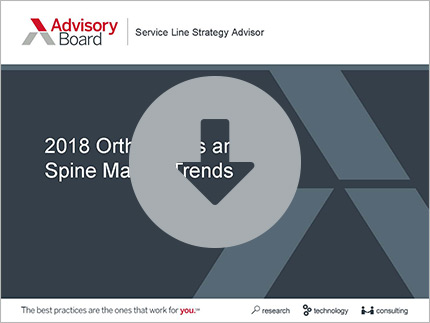 Want the latest information for your next orthopedics meeting? This ready-to-use presentation contains the Advisory Board's most popular slides on orthopedic market trends, from growth outlook and financial considerations to new care management priorities and technology innovations.
Use the slides to frame your next strategy meeting and build a strong foundation for your presentation.