Editor's note: This popular story from the Daily Briefing's archives was republished on July 11, 2019.
Health care is often the center of both political and policy debate, but the breadth and pace of recent changes has transformed "the once-mild anxieties of American doctors ... into clear and present phobias," Robert Pearl, a surgeon and former CEO of the Permanente Medical Group, writes in Forbes.
Based on his observations and discussions with other doctors at medical conferences, Pearl concludes, "Figuratively speaking, the industry's pulse is racing with fear."
5 fears plaguing doctors today
Pearl breaks down the "five intense fears" facing doctors today.
1. The fear of being poor (Peniaphobia)
While physicians generally support the health care industry's shift from conventional fee-for-service to value-based payments, "almost all of them worry about the real-life implications," Pearl writes.                               
One primary care physician told Pearl that Medicare's value-based payment policy "feels like a bait-and-switch." Pearl explains that CMS' "pay-for-performance" reimbursement model is designed to reward physicians whose services demonstrate "'quality, value, and accountability.'" But instead, he notes, "the dollars are proving finite and [the] program is becoming cost-neutral."
The doctor told Pearl, "'No matter how well we practice, 50% of us will be in the lower half.'" The doctor continued, "'I figured that if we all improved, we'd all be rewarded. But by raising the bar every year, CMS guarantees there will always be losers. It's just another way to pay doctors less.'"
2. The fear of change (Metathesiophobia)
When it comes to efficiency, the health care industry has room for improvement, Pearl concedes. He notes, "A more consumer-friendly form of change seems imminent."
However, according to Pearl, "doctors fear some of the new operating models … will force them to work even longer days, putting further strain on their family and personal lives."
Some doctors say that operating changes already negatively impact their encounters with patients. For instance, some doctors find that they spend the majority of their appointments with patients, which last for 15 minutes or less, staring at an EHR "needing to document every symptom and treatment in real-time just so insurers will pay them," Pearl writes.
One doctor told Pearl at the National Association of ACOs Fall Conference, "'[The EHR] was supposed to make my life easier, but all the computer does is slow me down.'"
3. The fear of politics (Politicophobia)
Health care is the number one issue for voters before the 2020 election, but physicians say both sides of the political spectrum "are advancing dangerous policies," Pearl writes. Pearl says he's heard concerns that proposals from the right would reduce insurance coverage and patients' access to care, while the left's growing support for "Medicare for all" could reduce provider reimbursements.
One physician said that, if "Medicare for all" became a reality, he'd have to "split visits," requiring patients to come for a second visit, to make up for lost revenue.
4. The fear of being blamed (Hypengyophobia)  
Health care costs are high and the industry is inefficient—and doctors are afraid of being blamed for it, Pearl contends.
According to Pearl, because doctors are on the "front lines" of health care, they are subject to a lot of criticism and blame from patients, but this doesn't mean that they are responsible for the industry's "rampant failures."
For instance, physicians might write prescriptions for expensive medication, but they have no control over drug pricing, Pearl explains. One surgeon told Pearl, "Pharma companies raise their prices 1,000% for brand-name drugs and Congress does nothing. Hospitals can bill patients $1,000 or more for a CT scan that takes two minutes. If I say no to either my patient will find another doctor," adding, "I'm not the reason health care costs are out of control, but I get all the blame."
5. The fear of failure (Atychiphobia)
The fear of failure is the No. 1 fear among physicians, Pearl writes, and it often starts as early as medical school or residency.
In order to be admitted to medical school, you have to meet "difficult (if not impossible) expectations," Pearl explains. The longer physicians stay in the field, the higher the stakes get. If a doctor makes an error, it can negatively impact their patient's health, Pearl writes.
"My classmates and I became doctors because we love helping patients," a "prominent" physician told Pearl at a conference. "Too often these days, we feel like we're letting them down. There's so much administrative time-suck, and never enough time for our patients."
So what does this mean for providers going forward? Pearl predicts that providers will increasingly get on board with new health care ventures and models to better integrate care. He writes, "[O]ddly enough, as their fears have grown, so too has their receptivity to change" (Pearl, Forbes, 10/8).
Learn more: 5 myths physicians believe about patient experience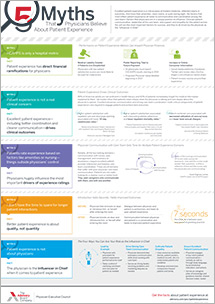 Excellent patient experience is a critical piece of modern medicine, reflected clearly in outcomes. And more than amenities, clean rooms, or quiet during night, the factors that most inflect patient experience all relate to communication and coordination among the care team—factors that physicians are in a unique position to influence.
Clinician-patient communication, leadership of the care team, and support and empathy for the patient across the unit are the most important factors for success, and they're all driven by the physician as the "Influencer in Chief."