Read Advisory Board's take: What are the likely implications of this deal?
CVS Health and health insurer Aetna on Wednesday received conditional Department of Justice (DOJ) approval to proceed with their $69 billion merger.
Why CVS and Aetna want to merge
CVS and Aetna announced plans to merge in December. The deal aims to combine Aetna's medical expertise with CVS' pharmacy locations to create sites for convenient, local care—and stem rising health care costs.
CVS plans to repurpose its nearly 10,000 pharmacies and clinic locations as community health centers with medical staff on hand to answer customers' health care and coverage questions, including questions about how to manage costs.
The CVS locations also would include a dedicated space for wellness services and would provide services related to hearing, vision, and nutrition. The companies want to provide customers with support to better manage chronic illnesses, such as heart disease or diabetes.
Shareholders from each company approved the deal in March.
DOJ gives conditional OK
DOJ on Wednesday said CVS and Aetna could merge provided that Aetna proceeds with its plan to sell off its Medicare Part D business to a WellCare Health Plans subsidiary.
Aetna in late September announced plans to make that sale. DOJ was expected to require the companies to sell off parts of their Part D businesses to preserve competition in the Medicare Part D market. Recent data from Wells Fargo show CVS is the market leader in Medicare Part D business, with about 6.1 million members, while Aetna is the fifth-biggest Part D seller, with about 2.2 million members.
Assistant Attorney General Makan Delrahim in a statement said, "The divestitures required here allow for the creation of an integrated pharmacy and health benefits company that has the potential to generate benefits by improving the quality and lowering the costs of the health care services that American consumers can obtain."
 Larry Merlo, CVS' chief executive, said, "We are pleased to have reached an agreement with the Justice Department that maintains the strategic benefits and value creation potential of our combination with Aetna."
What's coming next
According to the Wall Street Journal, the proposed merger is still subject to approval in some states. However, CVS said that it had already gotten "many" of those approvals.
The news that Aetna and CVS intend to merge has been met with mixed reactions.
CVS and Aetna have said the deal will help them better coordinate care and control costs. However, according to the New York Times, it could be years before the companies successfully change how their businesses operate.
Separately, George Hill, a senior analyst at RBC Capital Markets, said under the merger, CVS storefronts could serve "as a base of operations for a lot of ... delivery channels." He added that CVS will be well prepared for the entry of newcomers, such as Amazon, into the market.
Meanwhile, critics are skeptical of the new company's ability to control costs and say it might reduce choices for consumers and ultimately drive up costs, according to the Times.
George Slover, senior policy counsel for Consumers Union, an advocacy group, said, "This type of consolidation in a market already dominated by a few, powerful players presents the very real possibility of reduced competition that harms consumer choice and quality" (Wilde Mathews/Maidenberg, Wall Street Journal, 10/10; LaVito/Coombs, CNBC, 10/10; Abelson, New York Times, 10/10; DOJ release, 10/10).
Advisory Board's take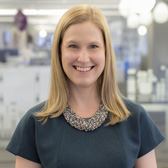 Lindsay Conway, Managing Director, Pharmacy Executive Forum
I see two major implications for health systems with this deal:
1. First, the merger creates a formidable new competitor for health systems in the population health business. If this new CVS-Aetna company can expand access to clinical pharmacy services, then the new entity could potentially out-compete traditional health systems on both cost and quality of care for low-acuity patients. That's because most providers struggle with creating a financially sustainable model for delivering clinical pharmacy services. Drug therapy is an increasingly important strategy for managing complex and chronic disease patients, and pharmacists are ideally-positioned to provide medication therapy management (MTM). Yet in a fee-for-service environment, most health systems are unable to provide robust MTM, the absence of which contributes to avoidable complications, non-adherence, and sub-optimal patient outcomes.
2. Second, the merger will likely affect health systems' retail pharmacy strategies. In recent years, many health systems have been investing in retail and specialty pharmacies to capture new revenue streams and improve continuity of care for their patients. It's likely, however, that as a result of the merger, patients' who receive their pharmacy benefits from CVS-Aetna will be encouraged to fill their prescriptions at CVS. The change will threaten not only health system-owned retail pharmacy revenues, but may also compromise health systems' ability to coordinate medication management for their patients.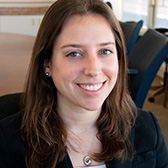 Rachel Sokol, Practice Manager, Health Plan Advisory Council
The move is likely the first of many health plan joint ventures or mergers with pharmacy organizations which highlight plans' need to go beyond traditional methods of medical management and seek new partners in addressing rising drug costs. The first iterations of these joint ventures focused on provider partnerships. Plans are now looking to pharmacy organizations (retail clinics and/or PBMs) to drive results as well.
In particular, these partnerships offer three potential advantages:
Support for medication adherence. An aging population and more medical (as opposed to surgical) treatment focus efforts on care plan adherence.
Access to better real-time data. Health plans need to know how their members are doing to intervene if something seems awry. Pharmacy data present some of the most accurate information on how members are adhering to a care plan.
Instant availability for care. Retail pharmacies present an opportunity to provide care after traditional provider hours to hopefully prevent the need for a higher acuity setting such as the ED.
Next, learn how mega-mergers could impact your organization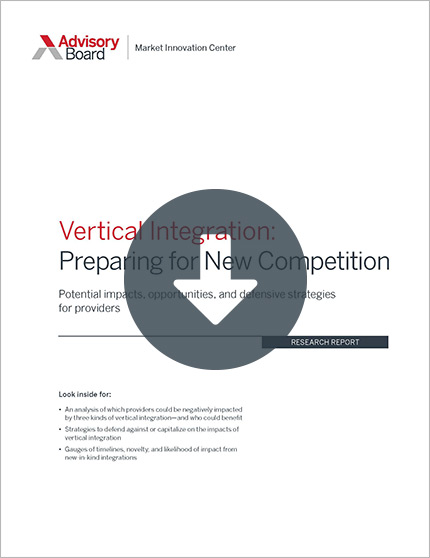 Health care mergers and acquisitions are hardly new, but many recent transactions involve vertical integration: new-in-kind combinations of major players resulting in unprecedented scale and scope.
Use this research report to plan for integrators' possible moves, forecast potential effects on your organization, and create a plan to defend against or capitalize on the changes.