U.S. hospitals from 2006 to 2014 spent more on cardiac implant devices than hospitals in the European Union (EU), according to a study published Friday in Health Affairs, the Washington Examiner reports. 
Download ready-to-use slides on the latest cardiovascular market trends
Study details
For the study, two researchers from the London School of Economics examined data from Marketrack hospital surveys—which are conducted by the Decisions Resources Group, formerly known as the Millennium Research Group—to compare the prices hospitals in the United States, United Kingdom, France, Italy, and Germany paid for cardiac implant devices from 2006 to 2014.
According to Healthcare Finance News, cardiac implant devices represent a large segment of the medical device market. However, there is limited information on how much hospitals pay for the devices, because that amount often is determined through negotiations between manufacturers and hospitals or other organizations, including group purchasing organizations and health care payers.
Findings
The researchers estimated that, overall, medical devices account for 6%, or about $200 billion, of total U.S. health care spending annually, compared with 7% of total health care spending in the EU.
However, the researchers found U.S. hospitals from 2006 to 2014 paid higher prices for cardiac implant devices, such as heart stents and pacemakers, when compared with EU countries. For instance, the researchers found that U.S. prices for cardiac implant devices were two- to six-times higher than German prices for cardiac implant devices. For example, U.S. hospitals in 2014 paid:
About $4,200 for pacemakers, compared with $1,400 in Germany; and
About $670 for metal stents, compared with $120 in Germany.
According to the researchers, Germany had the lowest prices in all cardiac device categories except pacemakers.
The researchers also found that prices for cardiac implant devices varied significantly within the United States and EU countries, except in France, where such prices were largely uniform. The researchers wrote, "Variation within countries suggests that manufacturers exploit varying levels of willingness-to-pay and bargaining power between buyers to charge different prices across hospitals and increase profits" (Baker, "Vitals," Axios, 10/5; Jones Sanborn, Healthcare Finance News, 10/5; King, Washington Examiner, 10/5; Wenzl/Mossialos, Health Affairs, October 2018).
What's trending in cardiovascular services?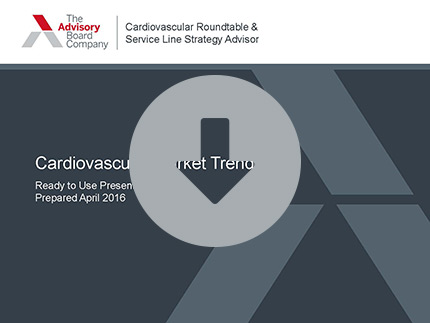 This ready-to-use presentation contains our most popular slides on cardiovascular market trends, from growth outlook and financial considerations to new care management priorities and technology innovations.
Whether you're speaking to your board, C-suite, or community, you'll have access to the latest data, pre-formatted and ready to present.