Read Advisory Board's take: How should programs respond to these guidelines?
Most men should skip routine prostate cancer screening because the harms of unnecessary treatment following a diagnosis might outweigh the benefits, according to new guidelines recently published in BMJ by medical experts, Lisa Rapaport reports for Reuters.
Why investigate prostate cancer screening
The medical community for years has debated the value of routine prostate cancer screening in otherwise healthy men. While some tumors are life-threatening, others grow too slowly to affect the patient's quality of life and some experts argue that diagnosing those tumors can result in overtreatment.
To better understand the benefits and harms of having otherwise "healthy men" undergo prostate specific antigen (PSA) blood test—the most common form of prostate cancer screening—a group of medical experts conducted systematic reviews of five randomized control trials with more than 700,000 male participants.
The panel evaluated the impact of PSA screening on patient mortality, the number of cancer diagnoses, and quality of life among the participants. The experts also tracked the number of accurate and inaccurate diagnoses that resulted from the screenings.   
More screening means more diagnoses—but 'little' to 'no' effect on mortality
The systematic review revealed that PSA screenings increased the number of men referred for additional prostate cancer testing, such as biopsies, to about 100 per 1,000 men screened. However, the panel said the evidence suggested about two-thirds of men who have a biopsy will have normal results.  But, the researchers found the biopsies also increase the risk of complications, such as blood in semen, blood in urine, pain, fever, and sepsis.
Panelists concluded that while PSA screening increases the detection of prostate cancer by 18 men per 1,000, the screening had "little or no impact" on prostate cancer mortality.
What clinicians need to know
The panelists said that by increasing the number of men diagnosed with prostate cancer, the PSA screening can expose more men, some with false positive results, to unnecessary detection methods and treatments, such as biopsies, radiotherapy, and surgery—which cause complications.
David Neal, professor at the University of Oxford who co-authored an accompanying editorial, said, "[M]ost of these men will die 'with their cancer' rather than developing complications and dying of it, and small prostate cancers do not cause any symptoms." He added, "Therefore, if you have a screening program which diagnoses many of these men with rather slow growing cancers then you make a `well person' into a patient ... but because their tumors were low risk they get no benefit from radical treatments because they never needed it."
The new BMJ guidelines recommend that doctors only discuss PSA screenings with men who have an increased risk of prostate cancer, such as men with a family history of cancer or men of African descent, because they have higher chance of benefitting from the screening. Further, these men should discuss the benefits and harms of the screenings with their physicians.
Other men that are not at high risk for prostate cancer can "skip this conversation altogether," Rapaport reports.
According to Neal, most physicians' are aware of the potential risks of PSA screenings, so the guidelines are unlikely to affect clinical practices (Rapaport, Reuters, 9/25; Tikkinen et al., BMJ, 9/5).
Advisory Board's take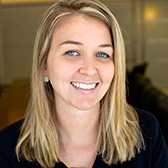 Deirdre Saulet, Practice Manager, Oncology Roundtable
The recommendations from this study reflect a general movement away from routine PSA screening for men, although the issue remains controversial.
The US Preventative Services Task Force (USPSTF) faced backlash from many professional organizations in 2012 when it recommended against routine PSA screening for men of all ages. While they relaxed that recommendation in 2017, PSA testing has, overall, declined since their first recommendation—indicating that at least some providers followed that guidance.
This new study will likely add to the ongoing controversy and confusion. However, the goal for leaders remains the same: ensure that patients and providers understand the risks and benefits of testing so they can reach informed, individual decisions. Still, this is easier said than done.
"Organizations should come to consensus on guidelines by understanding their community's needs and providers' preferences"
To start, organizations should come to consensus on guidelines by understanding their community's needs and providers' preferences. Make sure providers understand the pros and cons of testing, and find ways to make it easier to identify patients who might benefit from screenings, such as via EHR alerts.
Then, work with the community to make sure patients understand the issue. Your organization can host education sessions in the community to review information on screening and answer questions, and then provide decision support tools to help men decide whether or not screening is right for them.
For innovative strategies on building a best-in-class Prostate Cancer Center of Excellence, download our study, Tumor Site Centers of Excellence, which also includes best practices for developing breast, lung, gynecologic, and colorectal tumor site programs.
Then, to learn more about other clinical changes, new technologies and demographic shifts impacting the field of oncology, register for our webconference on Oncology Market Trends on October 9th from 1:00-2:00 pm ET.