CMS under a proposed rule released last week would abandon a decades-old regulation that places hospitals at risk of losing Medicare funding if their organ transplant programs have poor patient outcomes—prompting some stakeholders to raise patient safety concerns, ProPublica and the Houston Chronicle report.
Download ready-to-use slides on the latest transplant market trends
How CMS regulates organ transplants
CMS in 2007 implemented regulations to increase the federal government's oversight of organ transplant programs after a number of scandals suggested relaxed requirements for organ transplants had led to poor patient outcomes.
Under the current regulations, hospitals must meet specific survival thresholds for organ transplant patients, ProPublica/the Chronicle report. CMS has the authority to terminate transplant programs over poor patient outcomes, but typically the agency requires underperforming transplant programs to enter into systems improvement agreements that increase federal oversight and require the programs to implement certain changes, ProPublica/the Chronicle report.
However, CMS last month took a different approach and suspended Medicare reimbursements for heart transplants at Baylor St. Luke's Medical Center after an investigation by ProPublica/the Chronicle found transplants at the facility had resulted in "an outsized number of patient deaths and complications in recent years."
But CMS under its newly proposed rule would eliminate regulations that put a transplant program's Medicare funding at risk if a large share of its organ transplant patients die or experience organ failure CMS said the agency will maintain other requirements for transplant programs to monitor outcomes and quality of care. For example, the agency said it would continue to enforce regulations requiring transplant programs perform a minimum number of heart transplants to receive Medicare funds and maintain their Medicare certification.
The proposed rule also would eliminate a duplicative requirement for transplant programs to submit data to CMS more than once for "re-approval" from Medicare. According to CMS, Medicare's re-approval process has led some transplant programs to avoid performing transplant procedures, resulting in some organs going unused.
Some say CMS' current regulations are necessary, but others say they're too restrictive
The proposed change has prompted mixed response among experts who argue that CMS' current regulations strengthened the federal government's authority to hold transplant programs accountable for patient safety and those who say the current regulations are too restrictive ProPublica/the Chronicle report.
Laura Aguiar, a transplant consultant, said, "I have been around long enough to remember that there were very valid reasons why CMS … took the steps they took in implementing all of this." Aguiar said she expects several transplant programs would continue to offer patients high-quality care if the proposed rule is finalized, but "[t]here will be others that will take the removal of these requirements as a blessing to go back to the bad old days and it is patients who will end up paying the price for it."
However, Jesse Schold, a researcher at the Cleveland Clinic who over the decades has examined the effects of the federal government's oversight of transplant programs, said CMS regulations have led transplant programs to believe they need to reject comparatively sicker patients and imperfect organs to avoid the risk of failing to meet federally mandated patient safety targets.
As a result, patients in need of an organ transplant end up on waiting lists for longer periods, some experts contend.
Joel Adler, a liver surgeon at the University of Wisconsin School of Medicine and Public Health, also noted that CMS regulations fail to take into account the share of patients who die because they waited too long for an organ transplant.
Adler and his colleague in research published in the AMA Journal of Ethics in 2016 recommended that, instead of eliminating its current regulations, CMS should improve how it measures patient outcomes and create incentives for hospitals to perform more transplants. Adler said, "Should we get rid of (the regulation) entirely? I don't know. I suspect we'll swing back to somewhere in the middle, because there has to be some mechanism of capturing things when they are really, really bad. That has to exist" (Hixenbaugh/Ornstein, ProPublica/Houston Chronicle, 9/21; Cook, Becker's Clinical Leadership & Infection Control, 9/27).
Next, get our transplant market updates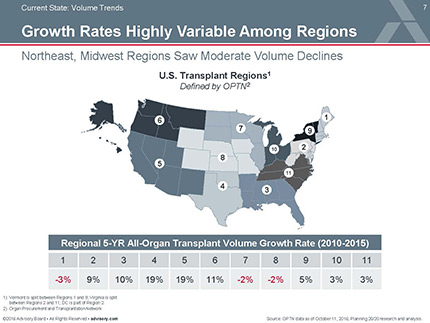 To understand the transplant market, see what the current, near future, and far future landscapes of solid organ transplants look like. Our popular slides on the transplant market are updated with the latest market trends in 2018.
This presentation covers everything from organ supply and demand to organ allocation and innovations in pharmaceuticals and technology.