Amid an industry-wide debate on how to stem drug price increases, CVS launched a new program to allow self-funded insurers to deny coverage for certain treatments deemed too expensive—a move that is sparking intense industry debate, Vox reports.
Infographic: 5 ways to control the flow of drug expenditures
About the CVS program
Under the program, CVS allows self-funded insurers—such as large employers—to exclude coverage for prescription drugs if the list price is above $100,000 for every quality-adjusted year of life gained, according to the Institute for Clinical and Economic Review's (ICER) quality-adjusted life-year (QALY) metric.
However, the new coverage denial policy would not apply to any drug FDA designates as a "breakthrough" therapy, Vox reports.
The program is intended to give insurers a tool to reduce drug spending, according to Vox. CVS in an August report said the program aims to "put pressure on manufacturers to reduce launch prices to a reasonable level."
In a Health Affairs blog post published Monday, Troyen Brennan and Surya Singh of CVS wrote, "Until now, PBMs such as CVS Health have had no ability to impact the initial launch price of a drug, which is set solely by the manufacturer, seemingly without regard to the inherent value of the medication or what the payer or patient can afford."
Industry criticizes proposal
However, CVS' program is drawing criticism from industry stakeholders. Robert DuBois of the National Pharmaceutical Council in a dueling Health Affairs blog post published Monday criticized the program's use of a single cost-effectiveness metric to assess the value of a medication. "To fully assess the value of a treatment, stakeholders must account for other considerations important to patients," such as whether the drug is designed to treat a previously untreatable illness, DuBois wrote.
He also took aim at CVS' $100,000 threshold, arguing that ICER's value framework does not consist of a single metric for determining which treatments are cost-effective, but has a variable threshold (sometimes $100,000, other times $150,000). He argued that the single $100,000 threshold does not take into account the full economic value of a treatment, such as increased productivity or reductions in caregiver burdens.  
Dubois added that the program's exclusion of specific drugs based on QALY fails to account for the varying ways patients react to medications. As a result, Dubois said a drug's exclusion from coverage would not reflect the drug's full value to all patients.
Which side is right?
Walid Gellad, an expert on prescription drug policy at the University of Pittsburgh, called the debate between CVS and industry a "good" one, because "there really isn't a right answer."
Gellad explained that rising drug list prices has left health system stakeholders with few options to restrain costs and that similar programs are likely to appear in the future. Already, Vox reports Veterans Affairs has begun using ICER's quality assessments to decide whether to cover specific drugs. Gellad said, "Something like this is the inevitable future. Nothing else is talking about launch prices. Some version of this is where everybody is heading."
However, Gellad said there are definitely flaws with CVS' program, namely the use of a single metric to determine the value of a drug. "The idea that we base something solely on a cut point determined by one cost effectiveness analysis from ICER is a big step to take. It's like a giant step forward when you don't really know how to walk yet," Gellad said (Scott, Vox, 9/17; CVS report, August 2018).
Five ways to control the flow of drug expenditures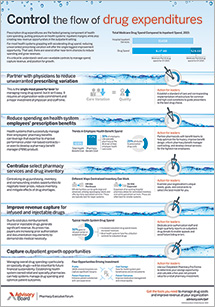 Prescription drug expenditures are the fastest growing component of health care spending. And while reducing unwarranted prescribing variation is the single biggest improvement opportunity, there are several other near-term chances to reduce spending and grow revenues.