Read Advisory Board's take: 5 steps cancer programs should take to be transparent about precision medicine
Physicians, hospitals, and reporters frequently share miraculous success stories of cancer patients saved by so-called "precision medicine," but they leave out a very important fact: Precision medicine fails for up to 93% of patients, Liz Szabo, a health reporter for Kaiser Health News, writes in a New York Times opinion piece.
What most precision medicine stories omit
According to Szabo, a typical news story on precision medicine might focus on a patient taking "a chance" on a new treatment designed to target a specific genetic mutation in their tumor. The reporter would showcase the patient as a "scrappy protagonist who beat the odds."
But the very fact that some patients "beat the odds" implies that other patients—potentially many more—are succumbing to the odds. While "[t]here has been real progress" in precision medicine, Szabo writes, the number of patients who die while using precision medicine "still vastly outnumber the rare successes."
For example, a study published in Cancer Discovery last year found 93% of 1,000 patients did not benefit from precision medicine—and four studies presented at the most recent meeting of the American Society of Clinical Oncology found similar results. In particular, two studies showed patients saw no benefits when using precision medicine, and the other two studies showed precision medicine failed to shrink tumors in 95% and 92% of cases.
But those "studies received almost no news coverage," Szabo reports.
Why precision medicine's failures fly under the radar
"Many of the doctors I interview as a health care reporter are uncomfortable talking about patients who don't survive," Szabo explains. "They pivot to talking about people they've saved. They rush past the disappointing present and fast-forward to a future in which every patient gets the treatment she or he needs."
Hospitals also are quick to promote their precision-medicine programs, and companies that sell genetic tests unsurprisingly "highlight only the best-case scenarios." But Szabo cautions, "If you don't listen carefully, you could easily be led to believe those future cures are already here."
Ultimately, those stories "mislead the public," Szabo writes.
Part of the reason why precision medicine isn't a cure-all is that few patients are even eligible for—or can afford the cost of—precision medicine, Szabo writes. Szabo explains while "scientists have identified tens of thousands of genetic variations that could play a role in cancer, doctors know how to target only a few of them with drugs."
She notes that experts estimate about 8 to 15% of patients end up being eligible for precision medicines, and of those patients, about half of them benefit from the targeted treatment, Szabo writes.
Nikhil Wagle, a cancer specialist at Dana-Farber Cancer Institute in Boston who has helped develop precision-medicine tests, said, "There are very few instances in which we can look at a genomic test and pick a drug off the shelf and say, 'That will work.' That's our goal in the long run, but in 2018 we're not there yet."
What this means for patients
If providers and journalists fail to acknowledge those failures, they may leave patients in the dark about the true prospects of precision medicine, Szabo writes.
She recalls the story of MaryAnne DiCanto, a patient who turned to precision medicine after she was diagnosed with incurable breast cancer. DiCanto underwent "repeated biopsies," but she died about four years later.
Her husband, Scott Primiano, said she had benefited from the standard treatment but never responded to the targeted therapies. Over the course of a decade, Primiano said his wife's care cost them $500,000 out-of-pocket. While he was able to foot the bill, Primiano said he's concerned that individuals with fewer resources will turn to precision medicine without realizing the cost or the failure rate.
"Let's not pretend this is something it isn't. I'm not saying we shouldn't try it. I just don't want people to have false hope," Primiano said (Szabo, New York Times, 9/11).
Advisory Board's take: 5 ways cancer programs should respond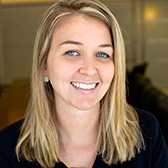 Deirdre Saulet, Practice Manager, Oncology Roundtable
At a time when headlines are trumpeting advances in genomics, precision medicine, and CAR T-cell therapy, this article reminds us how easy it is to get swept up in the excitement of recent advances and to overlook the risks and shortcomings of these innovations.
Oncologists themselves aren't fully sold on the immediate impact of precision medicine. In a recent Cardinal Health survey, only one-third of oncologists said that precision medicine would have a significant impact on cancer care in the next 2-3 years. But their general caution can be easily inundated by media coverage, television or social media ads, and online communities, which give patients access to an unprecedented amount of overwhelming—and sometimes misleading—information. And this information is growing quickly. For example, a 2016 JAMA Internal Medicine article showed that hospitals that treat cancer spent $173 million on advertising in 2014, up from $54 million in 2005. As Dr. Otis Brawley, chief medical officer at the American Cancer Society, stated last year, "I'm starting to hear more and more that we are better than I think we really are [at treating cancer]. We're starting to believe our own bullshit."
"General caution can be easily inundated by media coverage, television or social media ads, and online communities"
That is not to say that administrators, providers, and patients should not be excited and optimistic about the potential of precision medicine. (And a recent study from MD Anderson, which demonstrated improved overall survival when patients receive genomic testing and matched treatments, certainly supports our continued efforts here.) But it's unfair to patients and their families to only explain the upside. Instead, cancer programs and providers need to be transparent about serious and sometimes surprising side effects, the costs, and where there's a shortage of evidence. While not necessarily surprising, the numbers provided by the New York Times in this story are striking—only 8-15% of advanced cancer patients are actually eligible for genomic testing and precision medicine therapies.
Here are five ways that cancer programs should respond:
Help providers prepare for these conversations. Consider developing targeted education materials, hosting role-playing exercises, and investing in on-demand expert support for patients and providers to discuss what these new technologies are—and aren't.
Update your website or blog with basic education on the principles of, and eligibility for, precision medicine. This can solidify your cancer center's status as a trusted source of information, while tempering unrealistic expectations for what these "miracle" drugs can and cannot do.
Incorporate education on precision medicine into ongoing community screening and prevention efforts. This will, again, help bolster your center's status as a trusted community player.
Invest in financial navigation to help patients and providers understand the patient's insurance benefits and responsibility for the recommended plan of care. This is particularly important with precision medicine, where these treatments can be especially expensive.
Prioritize advance care planning. Because many patients eligible for precision medicine and immunotherapy will have rare, complex, or advanced disease, make sure everyone is on the same page when it comes to potential outcomes, quality of life, risks, and patient goals for care.
To learn much more about what clinical innovations are occurring in oncology, including how to balance these innovations with the operational and financial realities of your program, read our research reports on the Clinical Innovations in Oncology.
Join our popular webconference series: 'Oncology Essentials'
Back by popular demand, our four-part webconference series will help you understand today's cancer patients—what they expect from you, how their market is evolving, and how you can serve both survivors and patients facing the end of their lives.
Join us for all four in the series, or just choose the areas where you need a refresher: