Matthew Brock and Jeffrey Hubrig aren't yet 30, but they're planning to leverage their combined health care industry knowledge to reopen a hospital that recently closed in Ohio.
Millennials 101: What they want from their jobs, their PCPs, and more
Brock and Hubrig's plan
Affinity Medical Center in Massillon, Ohio, closed in February. The city of Massillon took ownership of the hospital and has sought to reopen it. According to Canton Repository, the city has found two potential buyers in Brock, 29, former CFO of Community Health Systems in Tennessee, and Hubrig, 27, who worked for his family's medical waste company. Prior to his stint as CFO, Brock worked as a consultant, which is where he met Hubrig.
Brock said he began researching the shuttered Massillon facility after Becker's Hospital Review reported the closure. He was quickly impressed with the support the facility received from the community and felt like Massillon was the right place to start a new hospital.
Together, Brock and Hubrig in July took their first step toward running a hospital. They formed a corporation, called Paramount Matrix, to manage the hospital, which they plan to name Massillon Regional Medical Center. The pair also plans to create a nonprofit corporation that would lease the hospital from the city. And Brock and Hubrig have already taken steps to get the hospital accredited and cleared for Medicare and Medicaid reimbursement.
The nonprofit corporation Brock and Hubrig plan to create would pay the city up to $1 million to cover expenses the city has accrued since taking over the property. Under a triple net lease, the hospital corporation would pay the city property tax, maintenance costs, and property insurance. The corporation would also pay $50,000 monthly in rent.
The agreement with the city would also include a government board of five to eight members. At first, the board would consist of Brock, Hubrig, Massillon Mayor Kathy Catazaro-Perry, a city council member, a citizen appointed by the mayor, and a citizen appointed by the city council.
After five years, the nonprofit would have the option of purchasing the facility outright for $20 million or extending the lease another five years.
Brock said his time as a CFO has helped him plan the reopening of Massillon Regional. "The model that we have in place is a model that we know and that has worked," he said.
Next steps
Whether Brock and Hubrig can move forward with their plan hinges on approval from the Massillon City Council. The council on Monday is slated to vote on the pair's proposal to buy the hospital.
Catazaro-Perry's enthusiastically supports Brock and Hubrig and has called for the community's backing. "I'm asking the community to rally around them and support them so that they are successful," she said. She noted, "They are on a mission. That is what I love about them. They have this passion and this drive" (Botos/Pritchard, Canton Repository/Akron Beacon Journal, 9/6; Bhatia, WSKU, 8/22; Affinity Medical Center release, accessed 9/8).
Millennials 101: What they want from their jobs, their PCPs, and more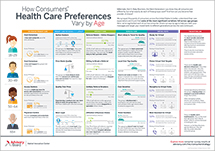 Millennials are now the largest living generation—which means they're poised to become the backbone of your workforce and top utilizers of everything from primary care to maternity services to virtual visits. To help you understand this generation, we've collected some of our best resources on millennials.
Report: How to stop millennial turnover in the first 3 years