People with "essential fructosuria"—a rare genetic condition in which a person lacks the primary enzyme needed to metabolize fructose—have exceptionally low risks of obesity, Type 2 diabetes, and certain liver diseases, and some drugmakers think the condition could illuminate new ways to fight those diseases, Jared Hopkins writes for Bloomberg.
How 6 leading hospitals launched diabetes management programs
A rare condition
Consuming too much fructose is linked with liver disease and Type 2 diabetes, Hopkins writes, as well as a condition known as fatty liver, which can lead to a type of liver disease called nonalcoholic steatohepatitis (NASH).
However, inhibiting the enzyme that metabolizes fructose, which is known as fructokinase, reduces the risk of those conditions. Because people with essential fructosuria can't metabolize fructose effectively, they're at a significantly lower risk of developing these diseases.
But essential fructosuria is very rare. The chance that someone has the condition is one in 130,000, Hopkins writes—and according to Mark Herman, an assistant professor at Duke University School of Medicine, the last case report on essential fructosuria within medical literature was published in 1998.
What's more, people with fructosuria tend to be tough to identify, as they're usually healthy and not typically tested for the condition. In most cases, patients with fructosuria are diagnosed only when they see a health care professional for a different reason.
Could fructosuria hold the key to fighting obesity?
But that hasn't stopped drugmakers from seeking out patients with fructosuria, Hopkins writes, because the companies believe the condition could hold the key to fighting obesity and liver disease.
Richard Johnson, a metabolic-disease scientist at the University of Denver, was the first to look at altering fructose metabolism as a way to prevent disease, Hopkins writes. He discovered that mice that had high-fructose diets but did not have the fructokinase enzyme gained less excess fat and weight, and had lower levels of blood glucose and insulin, than mice that had the enzyme.
Similarly, studies from Kimber Stanhope and Peter Havel at the University Of California, Davis have found fructose to be associated with weight gain and increased risk of metabolic syndrome in humans. According to Stanhope, "[I]nhibiting [fructokinase] is the best pharmaceutical solution to this high sugar diet."
That's exactly the approach that Johnson & Johnson explored more than a decade ago with a fructose metabolism inhibitor created by chemist Bruce Maryanoff. However, the drug never reached clinical trial, and Johnson & Johnson decided to call off additional research into the drug, determining it wouldn't lead to any commercial success, Hopkins writes.
But Johnson & Johnson's published data caught the eyes of researchers at Pfizer in 2011, ultimately leading to the invention of PF-06835919, a drug modeled after essential fructosuria that aims to inhibit fructose metabolism, Hopkins writes. According to Thomas Magee, who invested in the drug, Pfizer researchers saw the data published by Johnson & Johnson and Maryanoff and "thought we could do better. I knew we could do better. I said to my boss, 'I want to work on this.'"
Pfizer has faced challenges in developing the drug, however. For one thing, the company has been unable to track down a single carrier of essential fructosuria. Even so, Pfizer SVP Morrie Birnbaum hopes the drug in the long term "will actually prevent insulin resistance and obesity."
Johnson agrees that the drug could have a significant impact. "What we're looking at is a medicine that prevents the development of obesity, prevents diabetes," he said, adding, "My belief is this will have a major clinical impact" (Hopkins, Bloomberg, 8/15).
Learn more: How 6 leading hospitals launched diabetes management programs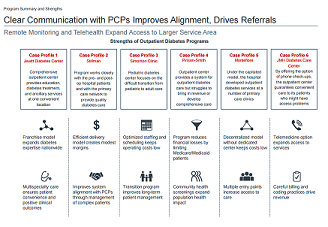 As obesity and diabetes rates rise across the country, many hospitals have developed outpatient diabetes centers. The most progressive hospitals have combined diabetes treatment, education, wound care, ophthalmology, and other services into comprehensive programs.
In this briefing, we profiled six leading institutions have successfully integrated outpatient diabetes services into their primary care networks. Read it now to learn how an effectively implemented program can benefit PCPs who may otherwise be unable to provide quality diabetes care to their patients and help your organization set itself apart from the competition.