Caregivers are essential to a patient's recovery, but hospitals seldom invest in support spaces dedicated to caregivers' needs, Tara Bannow writes for Modern Healthcare. But Burke Rehabilitation Hospital, which is part of Montefiore Health System, is trying to change that.
Learn 4 ways to expand the role of patient navigation in the ED
Why caregivers matter
According to Leah Eskenazi, operations director for the National Center on Caregiving's Family Caregiver Alliance, caregivers are essential to patients' recoveries.
For instance, advocates argue caregivers can help reduce hospital readmissions. According to Kendra Webster, director of the Coast Caregiver Resource Center, which is part of Cottage Rehabilitation Hospital in California, "Medicine is being challenged to look at readmissions and how to prevent those unplanned readmissions, and usually that's going to fall into the role of the caregiver."
Jeffrey Menkes, CEO of Burke, said caregivers "need to be recognized as a component that will reduce readmissions to hospitals and keep length of stay shorter."
Why caregivers are overlooked
Despite the role caregivers play in helping patients recover, caregivers seldom receive the support and attention they need, according to Loren Vocaturo, VP of program development and education for Select Medical's inpatient rehabilitation division.
For instance, fewer than 20 acute care hospitals have a space dedicated to caregivers, according to experts.
One reason is that administrators find it difficult to use a cost-benefit framework to determine how best to support caregivers, Eskenazi said. "That's the particular challenge for these types of programs: They're not profit centers," she said. "They're not like heart services or surgery of various types. They're not bringing in money."
How Burke is investing in caregivers
But while few facilities invest caregiver support space, Burke was able to create just such a space, thanks in part to a grant from a former patient.  
Burke in June opened the first family-caregiver resource center in a rehab hospital. The resource center has a "spa-like" atmosphere, Bannow writes, and allows caregivers to rest and ask questions of volunteers who are trained to address their concerns.
Steve Kessler's wife was a patient at Burke, and his family helped develop the center, called the Marsal Caregiver Center. "It's like a flashing message going, 'Hey, look, you as a caregiver, you matter,'" Kessler said of the center.
Up to 250 people visited Marsal in the first month it was open, Bannow reports. According to Carla Assenza, the director of Marshal, its popularity has since grown.
"Usually I try to help [caregivers] manage [their] anxiety and help them prioritize the things they have to focus on to get some answers for so they can take the next step," Assenza said. "Because it seems like a lot of people are just really in a storm of emotions, and we try to funnel that down for them."
Bannow reports the center cost about $700,000 to build and that it will cost about $200,000 annually to run. The center has one paid staff member—a licensed clinical social worker who serves as the director—though Burke indicates the staff is expected to grow (Bannow, Modern Healthcare, 8/15).
Learn more: Expand the role of patient navigation in the ED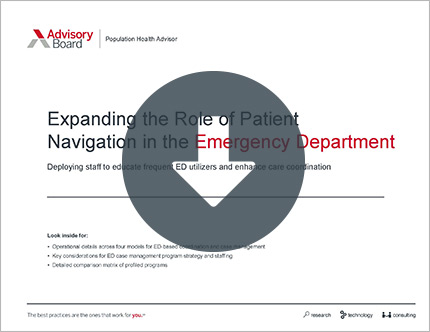 Learn about common ED-based roles designed to improve patient care coordination and provide targeted support for higher-risk patients.