The American Association of People with Disabilities (AAPD) and the U.S. Business Leadership Network have released the 2018 Disability Equality Index (DEI), which recognizes 145 top employers in the U.S. for disability inclusion.
Q&A: How to build a diverse leadership bench
Of the 30 health care organizations that earned a rating of 100—the highest possible score—20 are Advisory Board members.
Methodology
The DEI measures companies on the following performance indicators:
Culture and leadership;
Enterprise-wide access;
Employment practices, such as benefits, recruitment, and accommodations;
Community engagement and support services; and
Supplier diversity.
AAPD scored each corporation on a scale from zero to 100, with 100 representing the most disabilities-inclusive companies. AAPD in the report recognized companies for scoring an 80 or better on the DEI.
The list
The 20 Advisory Board member companies that scored 100 are:
3M;
Aetna;
Aramark;
Baylor Scott & White Health;
Biogen;
Boehringer Ingelheim USA;
Boston Scientific;
Cigna;
CVS Health;
Dell Inc.;
Florida Blue;
JPMorgan Chase & Co.;
Kaiser Permanente;
Lockheed Martin;
Mayo Clinic;
Medtronic;
Microsoft;
Tufts Health Plan;
Walgreens; and
Wells Fargo & Company.
Other health care and health-care-adjacent organizations on the list are:
Blue Cross Blue Shield of Michigan;
Express Scripts;
GlaxoSmithKline;
Health Care Service Corporation;
Highmark Health;
Merck;
Proctor & Gamble;
Spaulding Rehabilitation Network;
Thermo Fisher Scientific; and
Walmart (Knowles, Becker's Hospital Review, 7/18; 2018 Disability Equality Index, accessed 7/20).
Learn more: How to pave health career pathways to the middle class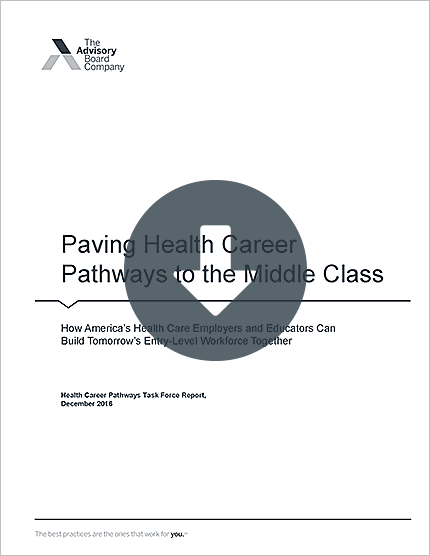 Learn how America's health care employers and educators can work together to establish the career paths, frontline roles, and partnerships that will build tomorrow's entry-level workforce.