Editor's note: This popular story from the Daily Briefing's archives was republished on March 11, 2020.
Read Advisory Board's take: How to help more experienced nurses pass on their wisdom.
As aging baby boomers reach retirement age, some organizations are seeking to avert a labor shortage by finding creative ways to retain or rehire retired workers—a move that Montefiore Health System officials say preserves institutional wisdom and creates opportunities to mentor younger staff, Claudia Dreifus reports for the New York Times.
Kathleen Christensen, who funds research on aging and the American labor market at the Alfred P. Sloan Foundation, said recent retirees are "increasingly attractive" in the currently tight labor market. "Their skills are up-to-date, they possess critical institutional knowledge, and they can mentor younger workers," she said. "Hiring back recent retirees appears more common than at any other time since the Great Recession."
Montefiore's program
After Montefiore officials noticed that nearly half of the system's nursing staff was approaching 50 years of age, the system developed a program to hold onto retirement-age nurses, Dreifus reports. Maureen Scanlan, the hospital's VP of nursing and patient care, said Montefiore didn't have a nursing shortage when they crafted the program—they wanted to prevent one from forming.
Through the program, the hospital reaches out to older nurses before they retire, offering them flexible work options if they choose to stay. For those who chose retirement, the health system created an easy path for retirees to return to the workforce.
One nurse who took advantage of the boomerang path was Ilana Benet, a retired labor and delivery nurse at Montefiore. At first, she said, she retired to spend more time with her 10 grandchildren. But very quickly she realized she missed caring for babies in the hospital.
Within weeks of retiring, Benet was back at Montefiore as a freelance nurse. Montefiore's policies allow Benet to continue receiving her pension while making $60 an hour as a freelance nurse. The health system places no restrictions on the number of hours freelancers can work.
According to Dreifus, about 36 "retired" nurses are freelancing at four of Montefiore's 11 facilities.
According to Scanlan, the benefits of bringing back these retired nurses go beyond just filling staffing needs, as these nurses have "a wealth of knowledge." Scanlan added, "It's a loss when that level of knowledge retires. They can remain with us in different capacities. It may not be in the role they've retired from, but they all become mentors."
Part of a broader trend
Montefiore isn't alone in bringing back retired employees. Gad Levanon, chief economist for North America at the Conference Board, said, "There's a labor shortage in many sectors, like construction and transportation," adding, "The attitude toward employing older workers is changing because of shortages."
Some companies have even brought back retired executives, Dreifus reports.
Thomas Murphy was a construction engineer with UPS in Atlanta who had risen to the position of coordinator of compliance and ethics for the company when he decided to take an early retirement package. "I was only 50," he said, "but the package was generous. My health insurance would be paid until Medicare kicked in. I thought it was time to start something new."
After he retired, Murphy and his wife spent time traveling and eventually started a small construction firm aimed at training disadvantaged youth in the building trades. But after a few years, Murphy and his wife shut down the business, finding its demands to be too much.
Murphy later learned about a program through UPS that aimed to recruit retirees. The program had started in response to increase demand for shipping services amid the internet shopping boom, and according to Malcolm Berkley, a VP at UPS, the company was looking to bring back former employees who "wouldn't need much training because they'd done the job for 30 years."
Now, at 62 years old, Murphy is the East region project engineering manager for UPS. Despite the fact that he often works as much as 65 hours in a week, he enjoys the job. "The work is enjoyable and the money is nice," he said. "People my age usually worry about burning through their nest egg. I'm able to build on mine" (Dreifus, New York Times, 7/13).
Advisory Board's take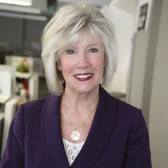 Carol Boston-Fleischauer, RN, JD, MS, Chief Nursing Officer
At a time when more than a third of the nursing workforce is approaching retirement age, Montefiore's approach provides a great example of a creative way to extend the careers of nurses and to supplement typical recruitment and retention efforts. It's a double win: The tenured nurse gains the opportunity to continue working with a less strenuous, physically demanding work schedule, and Montefiore gains the expertise of older nurses.
Montefiore's approach is creative and clever, but it's far from the only way to retain older staff. To learn how other top organizations have tackled the problem, download our colleagues' research into navigating looming mass retirements of frontline staff.
A key benefit of retaining experienced nurses is that they can share their institutional knowledge and medical skills with younger colleagues. But that knowledge transfer won't happen automatically; to make the best possible use of senior nurses, you should consider carefully how you structure your mentorship program.
UnityPoint Health-Methodist, for example, has achieved great success by creating a two-year, unit-based mentor program that:
Supports mentors with time and resources. Many mentorship programs peter out because mentors are busy with daily work and don't have the time to devote to their mentees. Unity Point addressed this problem by providing mentors and mentees up to 12 hours of paid time per year to engage in on-site mentoring activities, and providing mentors an additional six hours of paid training annually;


Identifies mentors who have the time and passion to do the job well. Many mentors become burned out by being called upon again and again to provide assistance to less-experienced nurses. Unity Point tackled this problem by focusing on picking mentors who were truly passionate about the program and pairing them with multiple mentees, instead of sticking with a traditional one-to-one mentorship structure; and


Tracks how mentors perform and what they learn. Unity Point created a system whereby mentors could track their mentoring activities and the themes they notices from engaging with younger staff. This allowed them to both keep mentors accountable and provided the organization with vital information about the concerns of younger staff.
While programs such as Montefiore's and UnityPoint's are easing some of the pains associated with an aging workforce, we understand that they alone will not help to fully address the widening experience gap in nursing.