Editor's note: This popular story from the Daily Briefing's archives was republished on May 30, 2023.
Public health guidelines usually recommend adults take brisk walks for exercise, but how fast is "brisk?" To answer that question in a way the average person could understand, researchers looked at available data and determined brisk walking is about 2.7 miles per hour, Gretchen Reynolds reports for the New York Times' "Well."
Understand the wellness spectrum—and promote healthy habits at work
Background
CDC and other agencies have published physical activity guidelines recommending adults take brisk walks for exercise, but those guidelines often fail to define brisk walking in a way that the average person can understand, Reynolds reports. For example, CDC says people walking briskly should be able to talk, but not able to sing.
Other guidelines define brisk walking as occurring when individuals move at a pace that increases their heart rate to about 70% of their heart rate maximum. But few people walk with a heart monitor, and most aren't inclined to make that calculus on the spot, Reynolds reports.
Study details
To establish a clearer definition of brisk walking, researchers examined 38 studies, involving hundreds of men and women who varied in age and body mass index, to:
Detect consistencies between the technical measures of brisk walking, such as respiration, and simpler measures, such as cadence; and
Determine whether a single definition for brisk walking could apply to a majority of individuals.
Findings
The researchers found, for most people, brisk walking could be defined as moving at a pace of 2.7 miles per hour or 100 steps per minute for adults under about age 60.
Catrine Tudor-Locke, a professor of kinesiology at the University of Massachusetts in Amherst who led the research, said, "This is a number that is very easy for any of us to measure on our own. You do not need special equipment or expertise." Tudor-Locke explained individuals can count how many steps they have taken in a minute, or they can count how many steps they take in 10 seconds and then multiply that number by six, or they can count how many steps they take in 6 seconds and multiply that number by 10.
She added, "The good news is that this pace will probably not feel strenuous to most healthy people."
Meanwhile, vigorous walking involves moving at about 130 steps per minute, and jogging involves moving at 140 steps per minute, the researchers found.
According to Tudor-Locke, the researchers could not identify a consistent number of steps it took older adults, those ages 60 and older, to achieve brisk walking. She said, "Some older people needed to take quite a few more than 100 steps per minute" to achieve brisk walking, while other older adults achieved brisk walking at lower cadences. Tudor-Locke said she suspects those differences might be attributed to the different methodologies used for the studies (Reynolds, "Well," New York Times, 6/27). 
Understand the wellness spectrum—and promote healthy habits at work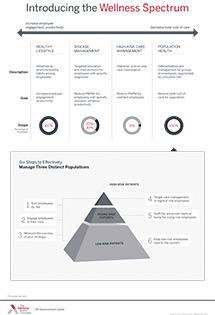 Programs aimed at promoting healthy habits among employees are likely to lead to improved employee engagement and productivity—but they're unlikely to reduce the total cost of care. To do that, you'll need to take a population health approach.