Men make up just 12% of the nursing workforce in the United States, yet they earn about $6,000 more on average than their female counterparts, according to the Nursing Salary Research Report released by Nurse.com.
Infographic: Get the solution for clinician compensation
A growing wage gap
The report found male nurses' annual salaries average $79,688, compared with $73,090 for female nurses. According to the report, the gaps varied by role and level of education.
According to Healthcare Finance News, the findings are largely in line with research released by Medscape and HIMSS that show male primary care physicians earned an average of 18% more than their female counterparts, with men averaging $239,000 and women averaging $203,000. Similarly, men in specialties earn an average of $358,000, while women earn an average of $263,000.
One factor driving the gender pay gap may be that men more frequently negotiate their salaries, Healthcare Finance News reports. The Nursing Salary Research Report found that 43% of men said they negotiated their salaries "most of the time or always," while just 34% of women said the same.
Discussion
Robert Hess Jr., the EVP and chief clinical executive of health care for OnCourse Learning, said, "Even taking into account total hours worked, years of nursing experience, age, education level, and certification status, men still are making more money than women."
Brent MacWilliams, president of the American Association for Men in Nursing, said that men have traditionally "gravitated toward acute care, high-paid specialties and to management/administration, which are all higher paying." However, the Nursing Salary Research Report shows that "men are being paid significantly more than women in the profession doing comparable work." MacWilliams added that he would "call on employers to assess their current workforce for gender gaps and raise salaries to create parity" (Nursing Salary Research Report, accessed 6/20; Lagasse, Healthcare Finance News, 6/18).
Millennial nurses are a third of our workforce—here's how to retain them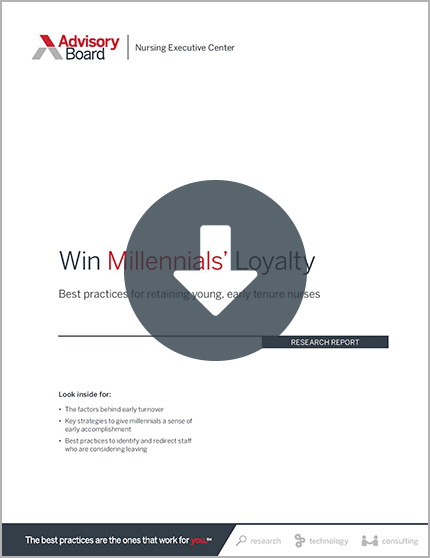 In 2016, millennials surpassed Baby Boomers as the largest living generation in the United States. As more millennials have entered the nursing workforce, health care leaders have confronted a growing challenge: young nurses are turning over at higher rates than their older peers, especially early in their careers.
Use the strategies and best practices in this study to build a millennial-specific retention strategy for your organization.