Read Advisory Board's take on this story
With patient experience taking on growing importance in health care, hospitals increasingly are rounding out their C-suites with a dedicated chief experience officer (CXO)—a role that has grown to encompass both quality and safety, Maria Castellucci reports for Modern Healthcare.
5 myths physicians believe about patient experience
What chief experience officers do
The CXO role emerged about a decade ago as a position focused on addressing the entirety of experiences patients encounter during their hospital visits. CXOs today have a range of responsibilities, Modern Healthcare reports, with most focusing on quality, safety, and performance improvement, according to a 2016 survey by software company Vocera.
John Bonamo, chief medical and quality officer of RWJBarnabas Health, said, "To say patient experience and just be thinking about patient satisfaction is not right, and I think that's why there is a lot of transition with the role right now. The definition of patient experience has changed."
And according to Modern Healthcare, the role has taken on more significance under the Affordable Care Act, which linked patient experience to reimbursements. In addition, the rise of high-deductible health plans and online reviews has led patients to develop higher expectations about their experiences at hospitals, Modern Healthcare reports.
How the role is evolving
Daniel Young, senior associate at Witt/Kieffer's health care practice, said health systems' strategic priorities dictate how they construct the CXO role. "I think everyone is looking for a best practice (to implement the CXO role), but truly it's about what they (health systems) need," Young said, adding, "Every system is so unique."
For instance, Young said health systems in a competitive market might have a CXO who focuses exclusively on attracting patients to the system through consumer-friendly service. In such a case, the CXO might collaborate closely with the clinical team to address any problems that arise while keeping his or her focus on issues related directly to patient satisfaction.
In contrast, health systems with a dominant place in the market might have their CXOs focus less on attracting patients and take on a broader role, Modern Healthcare reports. For example, describing her role as Intermountain Healthcare's first CXO, Shannon Connor Phillips said her position "is truly about delivering an extraordinary experience for patients, and you can't do that without (considering) safety and quality."
Similarly, Bonamo said his own role involves the oversight of all three areas of patient experience:
Quality;
Safety; and
Satisfaction.
Modern Healthcare reports that while CXOs usually do not head a large team of their own, they do rely on internal expertise and resources to implement initiatives. Specifically, according to Eileen O'Donnell, senior client partner in the global health care services practice at Korn Ferry, CXOs often work closely with the chief quality officer, a top human resources official, and chief safety officers—all of whom have overlapping goals.  
Separately, Young said, "If an organization is truly invested in the CXO role, the CXO will have a top cabinet seat and exposure to the board."
Busting myths about the CXO
It is not uncommon for CXOs to face skepticism from physicians about the relationship between non-clinical factors, such as parking or hospital food, and quality of care, Modern Healthcare reports—which is why some health systems put someone with clinical expertise in the CXO role.
For instance, Leslie Jurecko—Spectrum Health's first vice present of delivery system quality, safety, and experience—said, "To get buy-in from our physicians and our care teams (around patient experience), they really need to respect their peer, so there is a reason why they put a practicing physician in the role." In particular, Jurecko said her background as a pediatric hospitalist helped her pique the interest of frontline caregivers in the patient experience.
In addition, Jurecko said her office counters misconceptions about the usefulness of addressing the non-clinical factors of patient experience with initiatives—and data—demonstrating how a positive experience can relate to better outcomes.
For instance, one project involves coaching caregivers on how to engage patients in their care, as data show that patients who are more engaged are less likely to experience harm. Jurecko said, "We give them (clinicians) a lot of credit about how they interact with patients and how that interaction can drive loyalty." According to Jurecko, since she assumed her role less than 12 months ago, she has noticed physicians are playing more attention to the patient experience.
Jurecko added that CXOs help streamline initiatives geared at helping clinicians perform their jobs more efficiently—particularly when the CXO can streamline messaging from traditionally separate areas of focus related to quality, safety, and experience into one cohesive strategy. Separately, Phillips, CXO at Intermountain, said of the role, "We have an opportunity in health care to streamline and make it easier for our caregivers to do the right thing" (Castellucci, Modern Healthcare, 5/12).
Advisory Board's take
By

Sonia Rhodes, Chief Experience Officer, The Experience Lab, and Jeremy Brill, Experience Producer, Experience Lab
Today's health care Chief Experience Officer (CXO) serves as a catalyst for cultural and organizational transformation. They are able to do so through the intentional design of every team member, provider, patient and guest Experience—each Experience is connected because everyone's Experience matters. Leaders like Dr. Phillips, the Chief Patient Experience Officer at Intermountain Healthcare, understand Experience as the context for transformation.  When Experience is seen as a way to do all things in an organization, rather than as another "to do," leaders are better able to enlist and equip everyone as architects of the Experience.
At The Experience Lab, we partner with visionary health systems and Chief Experience Officers across the country to imagine, explore, and transform each element of the health care Experience from the inside out– it's what we call "Big E" Experience.
As Daniel Young, senior associate at Witt/Kieffer's health care practice, stated in the article, "Everyone is looking for a best practice (to implement the CXO role), but it's about what they (health systems) need." We wholeheartedly agree. Each CXO and health care system can uniquely differentiate their organization through the Experience they create. It's an exciting phase of discovery and design for health care. That's why we created The Experience Lab– a safe place to imagine, invent and implement entirely new Experiences that people desire and deserve. Rather than codifying best practices, we use Experience Design themes and principles to guide leaders in extracting, adapting, and applying those principles to design their own Experience.
How are your leaders connecting, orchestrating, and aligning your unique organizational elements to enlist and equip everyone as architects of the Experience?
If you would like to learn more visit us at advisory.com/ExperienceLab.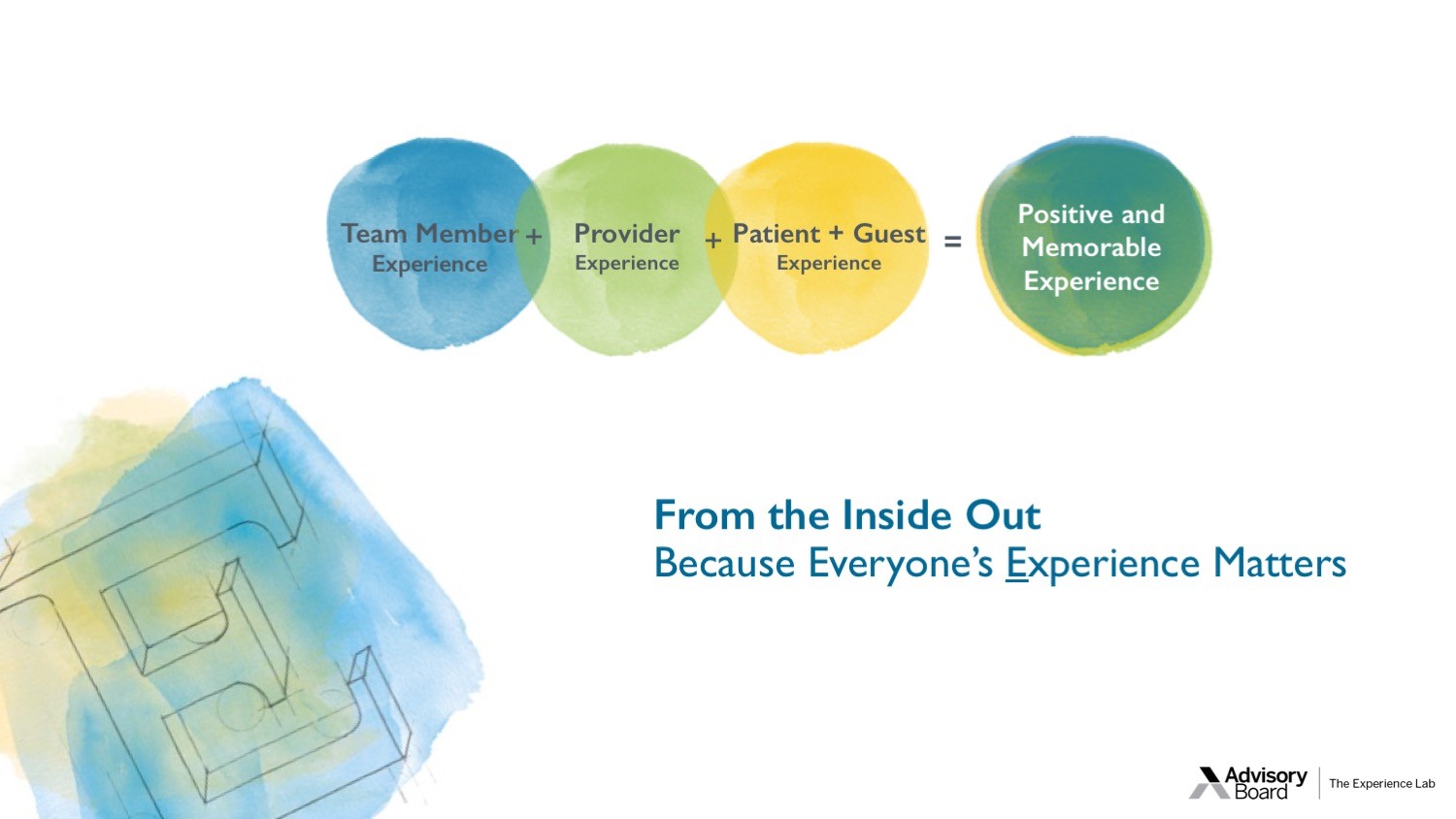 Learn more: 5 myths physicians believe about patient experience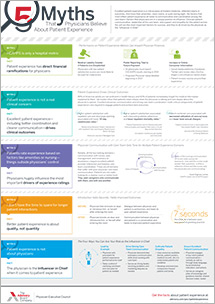 Excellent patient experience is a critical piece of modern medicine, reflected clearly in outcomes. And more than amenities, clean rooms, or quiet during night, the factors that most inflect patient experience all relate to communication and coordination among the care team—factors that physicians are in a unique position to influence.
Clinician-patient communication, leadership of the care team, and support and empathy for the patient across the unit are the most important factors for success, and they're all driven by the physician as the "Influencer in Chief."