Editor's note: This popular story from the Daily Briefing's archives was republished on May 10, 2019.
By Ashley Fuoco Antonelli, Contributing Editor
Your DNA is arguably the most precious thing you own. Its one-of-a-kind makeup contains information about your unique identity and health risks, as well as your family history. But despite the personal importance of DNA, the number of people willing to give their genetic data away to private companies like MyHeritage DNA skyrocketed in 2017—and the popularity has triggered debate about how, or whether, that data can legally and ethically be used or interpreted.
Here are 8 clinical technologies that could transform health care delivery
Let's take a closer look.
Direct-to-consumer genetic tests gain popularity
Direct-to-consumer (DTC) genetic genealogy testing has existed for the past several years, but MIT Technology Review's Antonio Regalado writes that, in 2017, the number of individuals participating in DTC genetic genealogy tests "more than doubled ... and now exceeds 12 million."
As DTC genealogy testing gained popularity, some companies looked to capitalize on the movement and sought to market DTC genetic tests that use a person's DNA to provide them with health information. Most notably, 23andMe in the early 2000s began selling a so-called "Personal Genome Service" that analyzed DNA from users' saliva samples to determine whether they might be at a higher risk of developing certain diseases. After some initial regulatory setbacks, FDA in 2017 approved 23andMe's Personal Genome Service as the first DTC genetic test for disease risks allowed for sale in the United States. FDA also has approved 23andMe's DTC genetic carrier test for Bloom Syndrome, as well as a separate DTC test designed to assess an individual's risk of developing breast and other cancers.
FDA also has signaled its willingness to approve more DTC genetic tests for health risks. In November 2017, FDA Commissioner Scott Gottlieb announced that the agency plans to adopt a new approach for regulating DTC genetic health risk tests that would exempt such products from premarket reviews under certain conditions.
Why some experts and health care providers are worried
Despite the growing popularity of DTC genetic testing, some experts and health care providers have raised concerns about the tests' accuracy, how users might react to the tests' findings, and how data collected for the tests are being used.
For instance, an investigation by NBC 5 Chicago's Phil Rogers calls the tests' accuracy into question. For the investigation, Rogers submitted samples of his DNA and the DNA of a Labrador retriever named Bailey to a random selection of DTC genetic testing companies, including Ancestry.com, MyHeritage DNA, HomeDNA, and Orig3n. While most of the companies said the dog's DNA sample was unreadable, Orig3n sent back a seven-page report on Bailey's DNA, and no where did the report note that Bailey isn't human.
Orig3n did not respond to Rogers' request for comment, but experts in genetics said the investigation shows that users should view genetic genealogy test results with skepticism. Jessica Stoll, a genetic counselor with the University of Chicago Hospitals, told Rogers, "The majority of genetic testing is still a gray area and there's always the possibility of uncertain results."
Stoll and other health care experts argue that uncertainty can be confusing, or even harmful, to patients who oftentimes are reviewing the results at home, without guidance from a medical provider.
James Beck, chief scientific officer of the Parkinson's Foundation, noted similar concerns when FDA approved 23andMe's Personal Genome Service: Once individuals "get the test and read the results, there is no going back." He stressed the need for genetic risks to be put into perspective for users, particularly because most of the diseases the tests screen for are rare.
There's also a growing debate about how DNA data shared with DTC genetic testing services can be used. For example, California investigators recently used a public genetic database based on genetic information collected through DTC genealogy tests to help identify an individual suspected to be the so-called Golden State Killer, one of the state's most infamous serial killers. Steve Mercer, chief attorney for the forensic division of the Maryland Office of the Public Defender, said, "People who submit DNA for ancestors testing are unwittingly becoming genetic informants on their innocent family."
What's to come?
As Regaldo wrote, "DNA has become a commodity sought by scientists and biotech companies, each hoping to collect enough to wring out new knowledge in new ways." And while signs point to continued growth in DTC genetic testing, it's unclear how policymakers will respond to concerns about their accuracy and uses.
The California case gives us a unique opportunity to watch as experts, and potentially the courts, debate and decide just how data collected by DTC genetic testing companies can be used. On the medical side of things, FDA's anticipated guidance on DTC genetic tests for health risks could give us insight into how the tests will play a role in our health care system.
Here are 8 clinical technologies that could transform health care delivery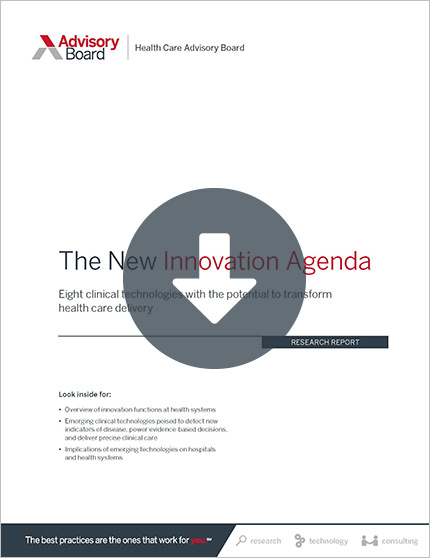 Our new report explores the clinical technology pipeline to help health care leaders become more conversant in the major vectors of innovation, leading applications of new technologies, and the business implications for established providers. Read on to unpack the new innovation agenda.