A forthcoming accounting standard change will alter the ways hospitals record leased facilities on their balance sheets—and it could affect how hospitals approach new investments in real estate and equipment, according to some experts, Tara Bannow writes for Modern Healthcare.
May 29 webconference: Get 8 ways to cut costs—permanently
Details on the change
Health systems enter into lease agreements for a wide range of purposes, from acquiring new medical equipment such as CT or MRI imaging machines to renting out space in medical office buildings.
Currently, most organizations are not required to record operating leases—a type of lease that can include a transfer of ownership at the end of the lease term—on their balance sheets. However, a new rule from the Financial Accounting Standards Board will require such leases to be recorded as assets and liabilities, similar to how companies currently document capital leases—a type of lease in which most ownership rights are transferred to the lessee.
The change will take effect for public companies and nonprofit health systems with municipal bond debt for annual reporting periods starting after December 15, 2018, Bannow writes. The change will take effect for all other health systems starting after December 15, 2019.
What this means for health systems
According to Rick Kes, an audit senior manager with RSM's health care group, many health systems have seen renting as a better option than owning because they were able to keep leases off of their balance sheets.
However, with this change in accounting standards, experts say hospitals may have less of an incentive to rent, Bannow reports.
Kes said that hospitals may be able to acquire debt financing to purchase and own a medical facility at a less expensive cost than a rental lease, and if they can, they're more likely to purchase the property than lease it once they can no longer keep leases off their balance sheets. "It's just removing one of the reasons organizations would select an operating lease today," he said.
An unsurprising change
But John Henningsgard, a managing director at Piper Jaffray & Co. in Minnesota, said that for most health systems the change is unlikely to affect a health system's debt covenants.
"From our observation, I think most market participants have been following this and understand that it's going to be a change in how these leases are accounted for from a presentation standpoint," Henningsgard said. "But from a credit standpoint, it's moving how it's accounted for but not changing the overall economics of the credit."
Mark Pascaris, the director of U.S. public finance for Fitch Ratings, expressed a similar sentiment, saying that this accounting standards change "doesn't really move the dial" in terms of how his agency will view a health system's credit worthiness. "It's not something we would expect is going to result in some meaningful number of rating changes anytime soon," he said (Bannow, Modern Healthcare, 4/7).
Your one-stop destination for system-wide cost control strategies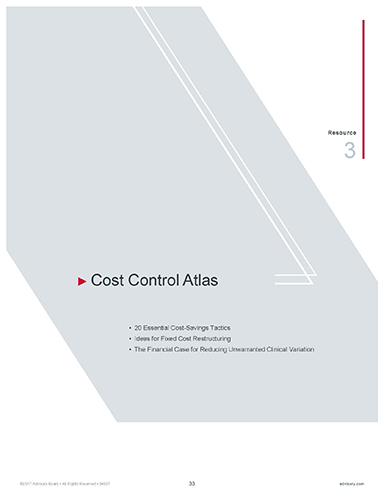 Feeling pressure to maintain margin performance and secure financial sustainability? You're not alone. Providers of all sizes, locations, types, and patient/payer mixes report a substantive decrease in operating margins and budget turmoil.
That's why we've created the Cost Control Playbook—a one-stop destination for system-wide cost control strategies.