Medical charities help patients, many of whom have rare diseases, afford health insurance and pay for costly treatments—but some critics argue the charities serve a different purpose: protecting drugmakers from pressure to lower their prices.
How to surpass monumental campaign goals
How medical charities became so common
According to the Washington Post, medical charities—which may be independently or manufacturer-operated—have proliferated in recent years as drugs for rare diseases have gotten more expensive and insurers have shifted costs onto members. Such charities today cover a range of patient fees, including drug copayments, insurance premiums, and other costs associated with care.
According to an analysis by Tax Notes, independent charities have grown dramatically in recent years, providing an estimated $1.4 billion in patient assistance in 2015, up from just $2.3 million in 2001. Similarly, manufacturer-operated charities have grown from $378 million in 2001 to $6.5 billion in 2015, the Post reports.
According to the Post, the charities—which are overseen by HHS' Office of Inspector General—are not required under federal regulations to fully disclose their donors. However, at least nine of these "main" charities receive virtually all their funding from pharmaceutical companies, the Post reports. 
Charities under spotlight for potentially skewing health care costs
According USA Today, critics argue that while medical charities help individual patients, they also drive up the cost of health care by preventing negative publicity about patients who can't afford their medications. In absence of such public scrutiny, the critics allege, drugmakers are free to charge higher prices—most of which are borne by insurers.
Further, according to the Post, insurers argue that the charities may act in the financial interests of their donors. For instance, the Post reports that charities may opt to provide Medicaid-eligible patients with commercial health coverage, which typically pays higher rates to drugmakers.
In a report last year, Citi Research found that a pharmaceutical company's $1 million donation to a charity to help patients pay their medications can generate up to $21 million for a drug company.
For example, Patient Services Inc. (PSI)—which receives donations from Shire and multiple other drugmakers—currently covers some health care costs for Loukisha Olive-McCoy, who has a rare, life-threatening disease called hereditary angioedema (HAE). The charity in March 2017 paid $250 to cover the share of a bill Olive-McCoy owed for a drug, manufactured by Shire, to treat acute attacks stemming from her illness.
For that drug, according to the Post, Olive-McCoy's insurance paid $85,867.
According to USA Today, at least some of these charitable groups are under federal investigation for potentially skewing the cost of health care in favor of drugmakers.
Critics voice concerns
According to the Post, medical experts have voiced concerns about the charities, arguing that the organizations should focus on financially needy patients—regardless of the type of illness they may suffer from—rather than their current approach, which focuses on those with rare diseases.
Rena Conti, a health economist at the University of Chicago, said, "This allows the system as we know it to exist, and it allows the prices of these therapies to be so high." Conti said, "Essentially, only when you have patients either dying in the street or complaining they couldn't get their medication, then that creates public pressure. This is essentially a way of neutering that political engagement" to lower drug prices.
David Mitchell—the founder of Patients for Affordable Drugs, a critic of the charities—said, "These groups are a marketing arm of pharma, and the fact that patients are caught in the middle of all this is disgusting."
Kristine Grow, a spokesperson for America's Health Insurance Plans, noted that patients who receive assistance from charities might otherwise be eligible for coverage through public programs. She added that funding commercial coverage for those populations "skews the risk pool and imposes higher costs for all consumers."
Pharma, charities rebut critics
According to the Post, charities say they operate independently from drugmakers under regulations designed to block kickbacks and prevent the steering of patients into particular health plans. Drugmakers, meanwhile, say the charities help ensure that patients in need get necessary medications and allege that insurers are to blame for not providing affordable drug coverage, the Post reports.
Joanne de Vries, head of patient services for genetic diseases at Shire, said Shire's relationship with charities centers exclusively around financial support. She said, "To retain that ethical integrity, Shire and my team are not made aware of how those foundations support those patients."
Separately, James Romano, PSI's director of government relations, said while pharmaceutical companies, such as Shire, "absolutely" donate to the company, "there's really not the financial benefit that the accusations suggest; there are a lot of manufacturers who don't donate, and their patients are helped just as much as patients who do."
Meanwhile, patients who receive charitable medical assistance have voiced their appreciation for the financial support. Leonard Rodgers, 80, who has an incurable blood cancer, said the group Good Days has helped him cover more than $200,000 in costs associated with two drugs that help keep him alive.
Rodgers, who receives a modest income from Social Security and nonprofit charity work, said, "If I end up paying for this, I'd have to liquidate all my assets within five years" (Johnson, Washington Post, 4/25; O'Donnell et al., USA Today, 4/26).
Next, how to surpass monumental campaign goals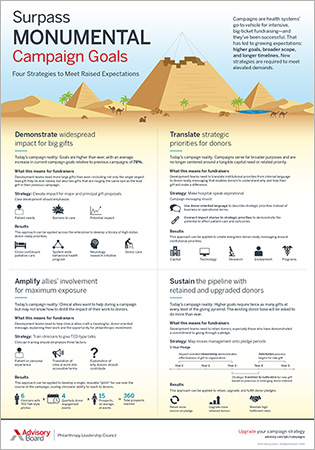 The reality of today's campaigns calls for new strategies to meet the elevated demands of both health systems and donors. This infographic is your guide to four essential strategies to maximize campaign performance.
Download Now