In an interview with NEJM Catalyst's Thomas Lee, Advocate Health Care's CMO and EVP Lee Sacks explained how Advocate ended 2017 with about a 55% decline in serious safety events from its baseline—and the health system's plan to reach zero.
Get nurse-led strategies for preventing avoidable readmissions
Advocate starts 'safety journey'
In the early 2000s, Sacks said, Advocate "struggled" to make meaningful progress on reducing medical errors and improve safety.
But in 2013, Sacks said Advocate decided to "give some thought to how" it could realize long-term improvements—and spent an entire year crafting a strategic plan for safety. "[W]e were very deliberate, and at the time we set the audacious goal that by 2020 we wanted to get to zero serious safety events," Sacks said.
To move toward that goal, Sacks said the health system established a leadership group, comprised of "both frontline (staff) and executives," who "consulted with other industries" to develop a four-step strategic plan for safety.
The initiative got support from both the board and CEO, who went from referring to Advocate as "a clinical enterprise" to "a safe clinical enterprise." Sacks said that "adding 'safe' ahead of that started to capture the attention of the organization. It certainly resonated with our clinicians."
In 2017, about four years after the effort began, Advocate "passed the halfway mark" toward its goal of zero patient safety events, Sacks said. "[W]e ended the year with about a 54–55% reduction from our baseline in serious safety events."
3 major sources of progress
Sacks highlighted the three most critical factors that drove Advocate's patient safety success:
Leadership buy-in, which Sacks defined as having "the board, the CEO, and everybody knowing that first and foremost we're a safe clinical enterprise";


Leadership training, which according to Sacks involved senior leadership dedicating 18 months to completing "a series of two-hour modules related to high reliability" and to reading books and articles on the topic. In addition to going through "the didactics, ... each of the leaders then was responsible for training the leadership team at their operating unit." He said, "[O]ne of the things that I learned very quickly is when you have to teach something, you have to master the topic, and it makes it much more meaningful"; and


The "a.m. huddle"—a daily morning gathering that "brings together the leaders of all the care units and the support services" to "review all the events that occurred in the previous 24 hours, anticipate and plan for the same in the next 24 hours, and review and get updated on open items from previous huddles," Sacks said. Advocate banned other meetings between 8 a.m. and 9 a.m. to support the huddles, which initially occurred five days a week—but eventually expanded to seven days a week, Sacks said.
"Everybody in our organization would say that that's played a huge role in transforming us and helping us reduce serious safety events," Sacks said.  
The 'real goal'
When asked if Advocate has "a real goal" for patient safety (and whether it was "feasible to get to zero"), Sacks said, "We're going to get to zero." He explained, "What that might mean is that a hospital or a medical group is at zero for a year or two."
He added, "Will the stars align, and will we be able to say that the whole system is at zero for a year? I hope so. ... But if we can get close to that, we will have made a huge difference for the patients we serve. You can already count in the hundreds the lives saved that wouldn't have been if we hadn't started on this journey, and that's what makes it so meaningful" (Sacks/Lee, NEJM Catalyst, 3/5).
New: The 4 foundational cracks that are undermining your nurses' resilience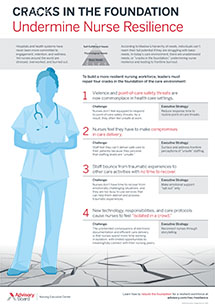 Check out our infographic to learn which four cracks in the care environment leaders must repair to rebuild the foundation for a resilient workforce.