Read Advisory Board's take on this story
The Joint Commission earlier this month released an alert urging hospitals to address the problem of workplace violence and offering seven steps toward solving the problem.
Learn more: Get our latest research on point-of-care violence
Occupational Safety and Health Administration (OSHA) data show that health care workers are four times more likely to be victims of workplace violence than those in private industry overall. According to OSHA, 75% of the almost 25,000 workplace assaults reported each year occur in health care and social service facilities.
The Joint Commission's 7 steps to addressing workplace violence
In its alert, the Commission said health care workers and organizations need to do better at reporting and preventing workplace violence, emphasizing that health care workers should not dismiss verbal or physical abuse as "part of the job."
The Commission outlined seven steps that health care workers and organizations can take:
Clearly define workplace violence, and put violence and abuse reporting systems into place. The Commission recommends leadership emphasize the importance of reporting all instances of physical and verbal violence toward both employees and patients, and establish a "zero harm" goal for all patients and staff.


Capture and properly track reports of workplace violence from various sources. Health care organizations should gather and compile information from sources such as OSHA, insurance, and human resources, and others, and regularly distribute those reports throughout the organization.


Provide follow-up and support to workplace violence victims. This support can include both psychological counseling and trauma-informed care if deemed necessary.


Review each instance of workplace violence, and determine what factors contributed to it. The Commission cites OSHA's recommendation that organizations conduct a worksite analysis and hazard identification, such as a risk assessment. The Commission recommends organizations share those analysis findings with staff.


Develop quality improvement initiatives to prevent workplace violence. The Commission recommends supporting cost-effective, evidence-based interventions to prevent future workplace violence incidents. These interventions may include changes to the physical environment, to work practices, or to administrative procedures.


Train all staff in de-escalation, self-defense, and emergency code response. All staff should be trained in crisis prevention techniques, such as the Crisis Prevention Institute's 10 de-escalation tips, and should conduct practice drills regularly.


Evaluate workplace violence reduction initiatives. All initiatives should be regularly reviewed and analyzed by leadership, and organizations should partner with local law enforcement or ask a consultant review their worksite.
A spokesperson for the Commission said that the steps should be taken as recommendations. If an employee faces violence, however, employers are required to take action.
Ana Pujols McKee, EVP and CMO of the Commission, said, "We encourage our accredited organizations to use the alert to help their health care workers recognize violence from patients and visitors, become prepared to handle it, and more effectively address the aftermath" (Dickson, Modern Healthcare, 4/20; Gregory, HealthExec, 4/20).
Advisory Board's take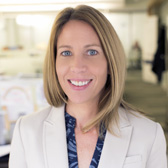 Katherine Virkstis, Managing Director, Nursing Executive Center, Global Centre for Nurse Executives and Anne Herleth, Consultant, Nursing Executive Center
Many hospitals and health systems have invested in increased security, adding personnel, video surveillance, metal detectors, and other infrastructure to keep staff and patients safe. But despite these precautions, violent acts are still commonplace at the point of care. These incidents can escalate quickly to threaten the safety of frontline staff.
You can't stop all patients and families from acting aggressively, but you can ensure the right response is ready when your staff need it—which both help keep your staff safe and helps them feel safer, improving their ability to provide safe, effective care.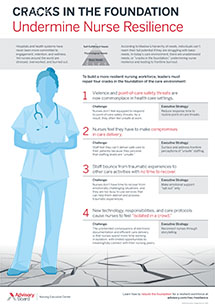 One key is to reduce the response time to routine point-of-care threats. For example, ensure that during security's existing patrols, they hold structured check-ins with unit staff. By proactively asking staff about potential and real safety threats, security can more readily identify and prioritize hotspots during their ongoing patrols. Then, when a crisis arises and staff needs their support the most, security will be well-positioned to respond.
To learn more about point-of-care violence and other factors that undermine nurse resilience, download our infographic, "Cracks in the Foundation Undermine Nurse Resilience."