Welcome to the "Entrance Interview" series, featuring Managing Partner Eric Larsen's conversations with influential executives taking on new leadership roles in health care.
In this edition, Kathryn Correia, the newly announced CEO of Legacy Health, talks with Eric about Legacy's unique approach to delegated risk, how she applies lean management principles to health systems, and her top priorities as an incoming CEO.
Correia previously served as chief administrative officer of Fairview Health Services in Minneapolis; as CEO of HealthEast, also in the Minneapolis-St. Paul area; and in leadership roles at ThedaCare and Geisinger Health System.
---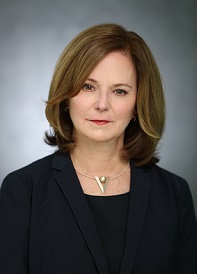 Question: First of all, congratulations, Kathryn. Let's start with the big picture: What attracted you to Legacy Health and to Portland?
When I spoke with your predecessor, George Brown, he talked about how unique Portland is—such as in its receptivity to delegated risk. And Legacy is even more distinctive in its approach to risk, having taken an equity position in an existing health plan (PacificSource). I'd love to hear what excites you most.
Correia: What energizes me is how well-positioned Legacy is for the future. I think George made several bold and strategic decisions to make sure the organization continues to deliver its mission into the future. And that's exactly what a CEO should do.
And Legacy brings to the table a history of innovation around accountable care and, really, the whole idea of accountable communities of care. That resonates with me because I grew up in physician group practice, so to speak: I have background in health plans, both at Geisinger and then at ThedaCare. I'm really honored that I have the opportunity to continue that tradition and to help Legacy continue to be vibrant and thrive.
Also, it turns out we love Portland. We've been to the Pacific Northwest, but we had not been to Portland. We fell in love with it, even on the cloudy days. Just the whole feeling of the city is wonderful. Plus, my husband and I are (almost) vegan and we love the restaurants.
Q: Definitely a gourmet city! So you're heading to Portland from the Twin Cities area, which I would characterize as unusually collaborative: HealthPartners, Allina, Fairview (now merged with HealthEast) and others work more closely together than systems in just about any other market. But it occurs to me, perhaps the one other market nationally that I would describe that way is Portland.
A: Yes I agree with you. At HealthEast, for instance, the health systems collaborated on a respite center for homeless patients with the Dorothy Day Center-Catholic Charities. Before that, we used to have to discharge patients with no known address or home, which obviously wasn't going to lead to continuation of the healing that was started in a hospital. So that's an example of one of the many collaborative efforts.
And, of course, in Minneapolis, the Institute for Clinical Systems Improvement is a collaboration and inclusive of health plans. There are lots of commonalities with Portland, and that's another reason I was so attracted to Legacy.
Eric: You're also an experienced hand, Kathryn, in provider-sponsored health plans: You've worked with Fairview on its efforts with PreferredOne—and ThedaCare had a health plan, too. For its part, Legacy has taken a 50% stake in PacificSource on the health plan side, and is partnering with GoHealth on urgent care. So I have to think that's something that attracted you?
 
A: Definitely. This has been a longtime focus for me. When I was at ThedaCare, in addition to our health plan (TouchPoint), we also worked with Shopko's FastCare, which are walk-in clinics in their stores, to make sure that if their patients were part of the ThedaCare system, that visit got documented in their health record.
That way, our physicians would know what was happening, and people could still have the convenience of a walk-in clinic but stay connected to their primary care physician. And that's something that Legacy does with GoHealth as well. 
 
Q: I enjoyed reading the Harvard Business Review article that you wrote last month, talking about HealthEast's efforts to align clinicians with very different practices around a single approach. So I'll ask a very unfair question, given you haven't even started the job: How might you think about implementing that construct in Portland?
 
A: This is going to sound a little bit in the clouds, but I think leaders can create an environment where people can see what could be different and better for customers. And I think lean management creates some organization for that thinking.
For instance, when we were designing different types of care at ThedaCare, the big opportunity was tapping into the passions of the employees: How do they know what care can be different? And how can you tap into the frustrations they feel when they can't do everything they want to for patients, and turn that into positive change?
So often, when people talk about Innovation—big-I Innovation—they think about technology. But small-I innovation usually comes from everyday problem solvers making incremental change. Lean management is really about creating an environment that lets that happen, and sustains those gains, because those small changes add up.
 
Q: Makes perfect sense. So if you don't mind, I'd like to reiterate my unfair question: Any preliminary sense of what you'll prioritize in the first few months?
 
A: Sure. I've had the opportunity to talk with Dr. Brown a bit, and we're creating a transition plan. I believe in the orderly transfer of leadership, and we're starting that and expect it to happen.
But mostly what I want to be sure to do is to be as present and as visible as possible—and to really get to know the organization. What's it like on the night shift? What does it feel like on the weekends?
And I want to make sure that I understand everything we're doing through telehealth and other non-facility-based care. So that's really the priority—getting to know all the great people who make up Legacy.
---
Webconference series: How to modernize cost control and growth playbooks in a changing market
Hospital and health system leaders face newfound uncertainty following the political upheavals of the past several months. Tune in to our webconference series and hear the most up-to-date analysis on the future of health care reform and get our latest guidance on how hospital and health system leaders should proceed amid uncertainty.