Intermountain Healthcare has launched one of the largest telehealth programs in the United States, called Connect Care Pro, which aims to help rural and underserved communities access specialized health care services while reducing costs, according to health system officials.
April 18 webcon: Get the telehealth industry trends for 2018
Intermountain officials in a release touted the initiative as a "virtual hospital" and a "new hospital—without a building or walls."
How it works
Connect Care Pro combines 35 telehealth programs and more than 500 health care professionals to provide services such as intensive care, mental health care, newborn critical care, and stroke evaluation alongside basic medical care.
The program supplements the existing staff in all of Intermountain's 22 hospitals as well as nine rural hospitals outside of Intermountain's system. Intermountain also plans to expand the program to easily accessed areas within local communities, such as patient kiosks in homeless shelters, schools, and perhaps prisons.
Examples of success
According to Intermountain, the program doesn't aim to replace existing staff so much as supplement existing services so that patients in rural areas can access specialized care. For instance, Intermountain highlighted how an infant at a rural Utah hospital was able to have a critical care consultation provided through Connect Care Pro, instead of being transferred to a NICU in Salt Lake City. As a result, the health system was able to avoid an $18,000 transfer, and the infant's parents were able to remain in their community without having to make a seven-hour round trip every time they wanted to visit their child.
Kane County Hospital CNO Charlene Kelly added that the program has "had a huge positive impact on" the hospital and its surrounding community of Kanab, Utah. "Kanab has had one of the highest suicide rates in the state, not including patients that come to us from our border town in Arizona, and we don't have a crisis worker here," she said. " With crisis care from Intermountain Healthcare, patients receive that crisis evaluation in less than an hour, and if the crisis worker recommends inpatient treatment, they assist in placing the patient. Our providers just love having this service available."
Program curbs costs, anticipated to improve care outcomes
Intermountain said using the telehealth program to curb the number of necessary transfers for infant patients alone has saved the health system more than $2.1 million over several years. In addition to reducing costs of care more broadly, Intermountain anticipates the program will curb patients' length of stay and reduce mortality rates, Healthcare IT News reports (Monegain, Healthcare IT News, 3/1; Slabodkin, Health Data Management, 3/1; Leventhal, Healthcare Informatics, 3/1).
Telehealth 101: Get the primer series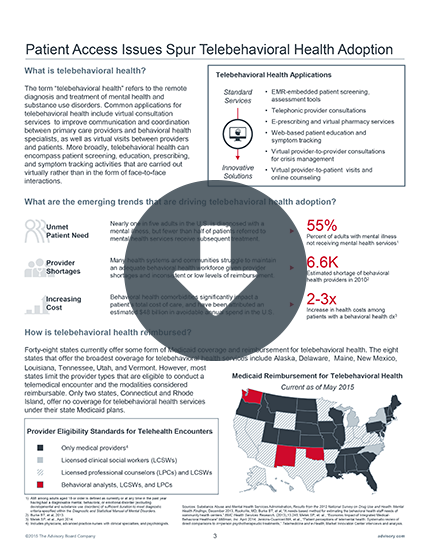 Need to get up to speed on the top issues in telehealth? Each installment in our primer series includes emerging trends, investment considerations, and case studies from top organizations, focusing on top areas such as: