Medical dramas like "Grey's Anatomy" create unrealistic expectations for patients and families about trauma care and recovery, according to a study published last week in the journal Trauma Surgery & Acute Care.
Here are the 5 must-have characteristics of the consumer-focused physician
Study details
For the study, researchers from St. Joseph's Hospital and Medical Center watched all 269 episodes of the first 12 seasons of "Grey's Anatomy." The researchers compared how the show portrayed 290 fictional trauma patients—including patients' injuries, treatment, and length of stay—with data from the 2012 National Trauma Databank on 4,812 real-life patients who had sustained serious injuries.
The gap between 'Grey's Anatomy' and reality
The researchers found that the fictional patients were more likely be younger and female than real-life patients, and they were more likely to die. Specifically, the researchers found the mortality rate on "Grey's Anatomy" was three times higher than for real-life patients: a mortality rate of 22% on TV, compared with 7% in real life.
Among patients who survived, the fictional patients had faster recoveries than real-life patients—which the researchers said could "cultivate false expectations" in regards to recovery times for patients in real life. For instance, only 6% of "Grey's Anatomy" patients were transferred to long-term care facilities, compared with 22% of real-life patients.
Jordan Weinberg, an author on the study and the trauma medical director at St. Joseph's Hospital and Medical Center in Arizona, said, "Not surprisingly, we found that compared to real life, patients on television tend to have more of a binary outcome." He added, "It makes sense because the show needs to end in one hour and things need to be wrapped up. But real patients are more likely to need long-term care."
They also found that fictional patients were more likely to proceed quickly to the operating room, with 71% of patients on "Grey's Anatomy" entering surgery straight from the ED, compared with 25% of real-life patients.
What the gap means for patient satisfaction
For some patients and families, medical dramas like "Grey's Anatomy" are the most familiar reference point for what medical care in a hospital should look like. If expectations don't meet reality, that could affect patient satisfaction, according to the study authors.
"Patient satisfaction is a big deal these days. It's become a measure of quality," Weinberg said. "If there's a real gap between (expectation and reality), it makes it a relatively poor experience for the patient, and it transfers to a poor experience for the nurses and doctors trying to take care of this patient who feels very frustrated."
Weinberg added, "As caregivers, we need to be pretty cognizant about that," recommending that providers "[t]ake the time once the dust settles to educate the patient and family" (Ducharme, TIME, 2/20; Knowles, Becker's Hospital Review, 2/20; Duan, ABC News, 2/21; Perry, MinnPost, 2/20).
What your patients expect from their care—from millennials to the silent generation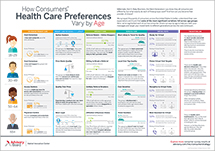 Millennials, Gen X, Baby Boomers, the Silent Generation—what exactly do each of these groups want from their health care?
We surveyed thousands of consumers across the United States to find out. Download this infographic to learn how to tailor your messages and target your investments to each generation.