Editor's note: This popular story from the Daily Briefing's archives was republished on Jan. 21, 2020.
Pneumonia is the most-common hospital-acquired infection in the United States, and some hospitals are fighting it with a simple solution: toothbrushes, Lucette Lagnado writes for the Wall Street Journal.
One key to improving your hospital's quality: Identify clinical variation
The persistent problem of pneumonia
According to the CDC, pneumonia is the most common hospital-acquired infection in the United States. It's often fatal, Lagnado writes: Research has found that around 15% to 20% of patients with hospital-acquired pneumonia die, and one CDC study even found that 31% of adults with hospital-acquired pneumonia die.
According to another study from Barnes-Jewish Hospital, patients with hospital-acquired pneumonia were 8.4 times more likely to die than other patients who were equally as sick.
"Given the mortality, hospitals should be doing a lot more," Dian Baker, a nurse-research professor at Sacramento State University's school of medicine, said.
So Baker—along with Barbara Quinn, a clinical nurse specialist at Sutter Health—launched a new study to explore a surprising, inexpensive intervention that may help prevent pneumonia: toothbrushes.
About the new study
Pneumonia typically is contracted from germs that enter the body through the mouth. So for the new study, which was published in January in the American Journal of Infection Control, Quinn decided to try to use basic oral care—that is, tooth-brushing—to target germs in the mouth.
The goal, according to Brian Koll, an infectious disease specialist and professor at the Icahn School of Medicine at Mount Sinai, is similar to that of hand-washing: "You want to reduce the amount of bacteria in your mouth," he said.
Ultimately, Quinn distributed 50,000 toothbrushes to Sutter Medical Center patients, instructing them to brush several times a day. The results were striking: Compared to a 2010-2011 baseline, hospital-acquired pneumonia cases declined by 70% from May 2012 through December 2014.
Sutter isn't alone in exploring the potential of oral care to prevent pneumonia. NYU Langone Health in New York City has for two years asked patients to brush their teeth before going under anesthesia. And
Department of Veterans Affairs Medical Center in Salem, Virginia, launched a program in which nurses brushed their patients' teeth twice a day. According to Shannon Munro, a nurse researcher at the hospital, hospital-acquired pneumonia cases dropped by 92% after the program was introduced.
Lagnado writes that even proponents of tooth-brushing to prevent pneumonia agree that more research is needed. But as Quinn notes, a single pneumonia case costs about $40,000 to treat—and "you can buy a lot of toothbrushes" for that much money.
Michael Phillips, the chief hospital epidemiologist at NYU Langone said, "I am all about evidence-based intervention, but this idea of brushing your teeth with a plain old brush fits with what we do." He added that toothbrushing is a "low-cost, low-morbidity intervention to prevent a high-risk complication" (Lagnado, Wall Street Journal, 2/17).
One key to improving your hospital's quality: Identify clinical variation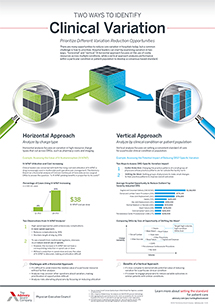 There are many opportunities to reduce care variation in hospitals today—but how should you prioritize those opportunities?
You should start by examining variation in two ways: "horizontal" and "vertical." A horizontal approach focuses on the use of costly resources across multiple conditions, while a vertical approach analyzes performance within a particular condition or patient population to develop a consensus-based standard.
Our infographic gives an example of each approach and explains the challenges of a horizontal approach versus the benefits of a vertical one.