As the #MeToo movement gains traction, some in medicine are seeking to raise awareness of and reduce sexual harassment in the field, which they say is too often accepted as part of the job.
Learn how to surface disparities in outcomes and care delivery
Reports of extensive misconduct—by both providers and patients
NBC News spoke with female nurses, residents, and surgeons as part of investigation into sexual harassment in the medical field, which is still predominantly male-led.
The women described extensive misconduct, including vulgar comments from male physicians, questions from male coworkers about their bra sizes, and propositions in hospital call rooms. In medicine's hierarchical structure, the women said, those in positions of power can abuse their status and intimidate those with less authority.
But harassment doesn't just come from coworkers: A recent poll published by Medscape found more than 70% of nurses had experienced harassment from a patient. According to Meghann Justice, a travel ED nurse, it's not unusual for male patients to expose themselves, touch a female nurse's breasts as she works, or call her a "cute little thing." These incidents "just com[e] as par for the course, unfortunately," Justice said.
Along with others, Justice wants to bring attention to the prevalence of harassment in medicine. "I think it's really important to shine a light on this and to let people know that these are conversations we have at the nursing stations," Justice said. "We'll trade war stories."
Seun Ross, the director of nursing practice and work environment at the American Nurses Association, said sexual harassment has "been going on for decades" in nursing. "I think sexual harassment in general is probably one of the most persistent problems in the workplace," Ross said, "but in terms of nursing, the lines are blurred because we see patients in their most vulnerable state, some that require patients to get naked, and unfortunately, people take certain liberties that they wouldn't have had they been fully clothed."
The challenge of treating patients who harass providers
Experts say that harassment persists in nursing in part because medical professionals have an ethical imperative to treat patients—even those who behave inappropriately.
Scotty Shively, an arbitrator and mediator who has practiced employment and health care law, said, "If a customer is in a store, you would feel much more within you're rights to say 'You're not welcome to shop here.' But it gets complicated when you have a patient." In health care, Shively said, "You might have patients who really aren't in their right minds, or elderly, or on some kind of medication that would cause something like that to happen."
But Shively emphasized that, despite the difficulties, organizations still must find ways to protect their employees. Sexual harassment victims, including nurses and other medical professionals, have federal protections under that law that bans gender discrimination as well as state laws.
When patients sexually harass staff, according to NBC News, typically hospitals start by talking to the patient about the behavior. If the behavior persists, the hospital will reassign staff.
Ross has called for nurses—and other women in medicine—to speak up. "I think once we understand what the true definition of sexual harassment is, which is any advances that are unwelcome or unsolicited that are sexual, and we stop excusing it, then the change will happen," she said. "We want to drive accountability so we're able to enforce consequences, and once we do that, you'll see more and more nurses speak out" (Chuck, NBC News, 2/21; MacDonald, FierceHealthcare, 2/20; Rege, Becker's Hospital Review, 2/20).
---
One step toward a great workplace: Truly engaged leaders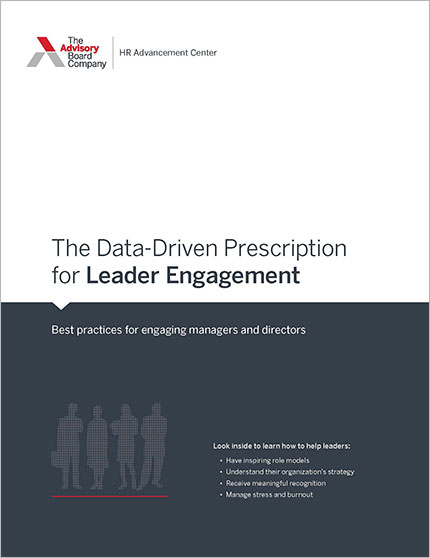 Health care leader engagement is declining nationally—and much more quickly than frontline engagement. But if organizations are going to succeed in today's market, they need leaders who are energized and excited by their work.
This study offers strategies to solve the top five challenges of manager and director engagement.