The National Council of State Boards of Nursing recently revised the Nurse Licensure Compact (NLC), which allows nurses to practice in participating states under a single license—relaunching the debate between proponents who say the compact eases the nursing shortage and opponents who say it could lower standards of care, Anna Gorman writes for Kaiser Health News.
Get the national prescription for nurse engagement
What is the NLC?
According to Gorman, the original NLC was created in 2000 to address nursing shortages and allow more nurses to practice telehealth. The agreement—modeled on the idea of a driver's license—allows nurses to practice in other NLC states without having to get an additional license, although they are still required to obey the laws governing nursing care in each given state.
While about half of the states in the country signed the original agreement, Gorman writes, some states refused to participate because the agreement did not mandate that participating nurses undergo federal background checks. Last month, the National Council of State Boards of Nursing unveiled a new version of its enhanced NLC agreement that mandates such background checks.
Twenty-nine states have implemented the enhanced NLC agreement so far, including Arizona, Delaware, Idaho, Iowa, Kentucky and Tennessee. Jim Puente, who oversees the NLC for the National Council, said that he expects more states to sign up, with nine additional states having already proposed legislation to join.
Arguments for the NLC
Those in favor of the original and enhanced versions of the NLC argue that it helps fill nursing shortages and allows nurses to respond more quickly to natural disasters across state lines, Gorman reports. According to Marcia Faller, the chief clinical officer at AMN Healthcare, "The nurse shortage tends to wax and wane regionally, so being able to move nurses where the needs are is really, really important."
Further, Sandra Evans, executive director of the Idaho Board of Nursing, explained that the compact can facilitate telehealth services—particularly in rural parts of Idaho and other areas where staffing is a challenge. According to Evans, NLC has made it so that nurses "can travel virtually—electronically or telephonically—to help their clients," whereas previously, they needed a number of licenses if they wanted to work across state lines.
Meanwhile, Lauren Bond, a traveling nurse currently working at UCLA Medical Center, Santa Monica, said non-participating states' individual training requirements do not increase her qualifications of care. "Across the board, wherever you go to nursing school, everybody comes out with a similar experience," Bond said. "Then most of the training you are going to do is on the job."
And Joey Ridenour, executive director of the Arizona State Board of Nursing, said NLC enables authorities to share information about "problem nurses" with other states, which facilitates investigation and discipline. "We are able to take action faster," she said.
Arguments against the NLC
However, not all states are sold on the agreement, Gorman writes. According to Gorman, opponents argue that every state has different training and care standards, so a nurse in one state may not have the knowledge or experience needed to practice in another state.
For instance, Linda McDonald—president of the United Nurses and Allied Professionals union in Rhode Island, which has not yet signed the new NLC—said, "The ability to control the standards of training and quality are of some concern to us. We want them trained in Rhode Island. We want them licensed in Rhode Island."
Similarly, Catherine Kennedy, the secretary of the California Nurses Association, said "We really want to make sure that nurses who are entering our state and taking care of our patients are competent and qualified." She added that California, which has not signed the new or old agreement, typically has not had problems recruiting nurses because of the state's fairly high salaries and nurse-to-patient ratios within its hospitals (Gorman, Kaiser Health News, 2/20; Orr Mitchell, National Law Review, 2/20; Brown, Medscape, 1/25).
Millennial nurses are a third of our workforce—here's how to retain them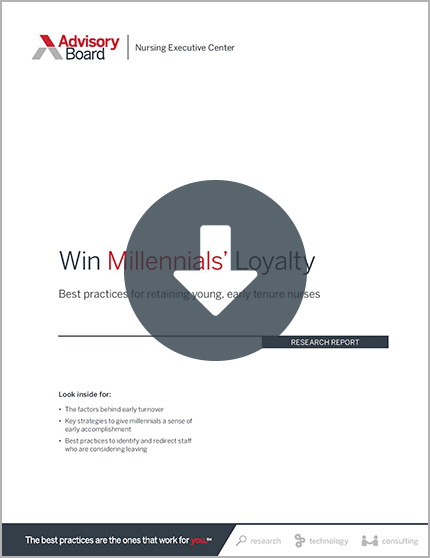 In 2016, millennials surpassed Baby Boomers as the largest living generation in the United States. As more millennials have entered the nursing workforce, health care leaders have confronted a growing challenge: young nurses are turning over at higher rates than their older peers, especially early in their careers.
Use the strategies and best practices in this study to build a millennial-specific retention strategy for your organization.