Editor's note: This story was updated on January 30, 2019

By José Vasquez, Staff Writer
First, read the Daily Briefing's in-depth explainer. Then, sign up for tomorrow's webconference, where Advisory Board's Naomi Levinthal provides a primer on how MACRA impacts provider payments.
Register for the Webconference
If you've followed the twists and turns in Medicare's latest changes to provider payments, you know that news coverage tends to devolve into alphabet soup: "CMS in November 2018 released a final rule for MACRA's QPP in 2019, with details on the MIPS and Advanced APM tracks."
To clear up the confusion, let's revisit the fundamentals of MACRA: How did it come to be? Who does it apply to? What does it aim to accomplish? How will it affect the health care industry going forward? Daily Briefing takes a deeper look.
MACRA: The origin story
The Medicare Access and CHIP Reauthorization Act (MACRA) was born from a bipartisan effort to overhaul the way Medicare pays so-called "eligible clinicians" who bill under Medicare Part B.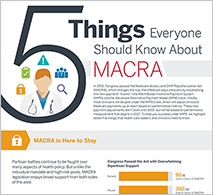 5 things everyone should know about MACRA
MACRA, which passed Congress in 2015 with strong bipartisan support, permanently repealed the sustainable growth rate (SGR) formula—a rule that Congress created in the 1990s to try to rein in Medicare's spending growth, that lawmakers regularly stopped from taking effect over concerns that it would significantly cut doctors' Medicare payments. To replace the SGR, Congress passed MACRA and created the Quality Payment Program, or QPP. The goal was twofold: to enact a more realistic vision for Medicare's future payments, and to accelerate the shift away from the traditional fee-for-service model and toward value-based payments.
How does QPP work?
So how does Medicare pay for eligible clinicians' work under QPP? In short, it provides two tracks for adjusting eligible clinicians' payments under the physician fee schedule based on the quality and value of care provided. The two payment tracks are:
The Merit-based Incentive Payment System (MIPS) track, for providers who are reimbursed largely through fee-for-service; and
The Advanced Alternative Payment Model (Advanced APM) track, for providers who take on a significant portfolio of Advanced APMs, which include risk-based accountable care organization models.
QPP officially kicked off in 2017—but CMS called that first program year a "transition" year, giving providers more flexibility on when they must begin collecting performance data. CMS will continue to apply certain transition year policies through 2021 to help providers ease into the program.
Who is eligible to participate in QPP?
QPP generally applies to all providers who bill Medicare Part B, but each payment track has its own eligibility requirements.
Five types of clinicians were eligible to participate in MIPS for the 2017 and 2018 performance years: certified registered nurse anesthetists, clinical nurse specialists, nurse practitioners, physicians, and physician assistants. For 2019, CMS expanded the types of clinicians eligible to participate in MIPS to include physical therapists, occupational therapists, clinical psychologists, and registered dietitians or nutrition professionals.
CMS also updated its eligibility requirements for MIPS. To be eligible in 2018, physicians and practitioners had to treat at least 200 Medicare beneficiaries and submit at least $90,000 in Medicare Part B claims. Eligible clinicians in their first year as a Medicare Part B provider are not required to participate in MIPS. For 2019, CMS added an additional eligibility threshold for providers who do not submit at least 200 claims for the covered professional services under the Physician Fee Schedule. Beginning this year, CMS also is allowing clinicians or groups who meet some but not all of these eligibility thresholds to opt into MIPS.
The Advanced APM track is open to additional provider types beyond those eligible for MIPS, including certified nurse-midwives, clinical social workers, qualified speech-language pathologists, and qualified audiologists. But to qualify for the Advanced APM track in 2019, providers must have at least 50% of their Medicare patients (up from 20% in 2018) or 35% of their Medicare payments (up from 25% in 2018) billed through an Advanced APM (as determined by CMS).
The chart below shows how the eligibility threshold for Advanced APMs is expected to change in future program years: